Endpoint Security , Fraud Management & Cybercrime , Fraud Risk Management
NortonLifeLock to Buy Avast for Over $8 Billion
Deal Will 'Strengthen Cyber Safety Program'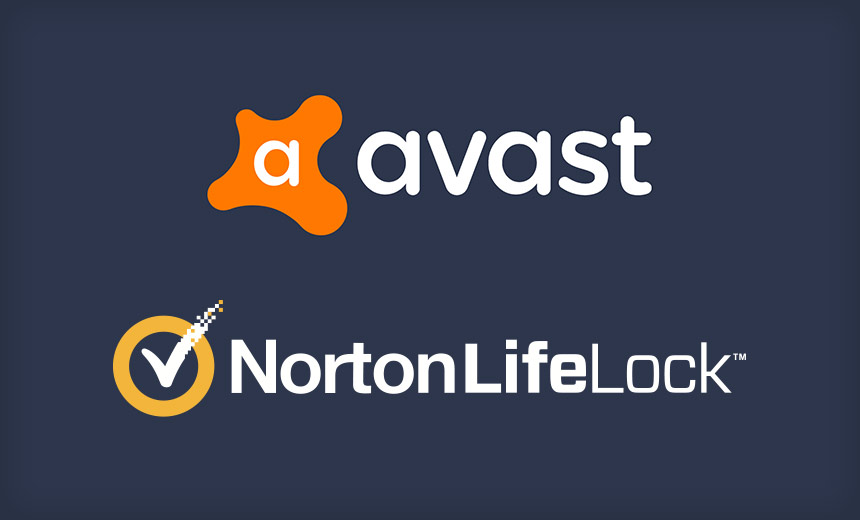 Antivirus and identity protection firm NortonLifeLock confirmed Tuesday that it has entered into an agreement to acquire its rival, Avast, for $8.1 billion to $8.6 billion, after announcing in July that a deal was in the works.
See Also: OnDemand | Understanding Human Behavior: Tackling Retail's ATO & Fraud Prevention Challenge
No prospective closing date for the deal has been announced.
The companies say they will combine Avast's strength in privacy with NortonLifeLock's identity capabilities to improve their ability to work with smaller offices and home office customers.
"With this combination, we can strengthen our cyber safety platform and make it available to more than 500 million users. We will also have the ability to accelerate innovation to transform cyber safety," said Vincent Pilette, CEO of Tempe, Arizona-based NortonLifeLock.
Under the agreement, shareholders in the Czech Republic-based Avast would receive a combination of cash and newly issued shares in NortonLifeLock. The final price is based on Avast's closing share price of $27 on July 13, which is the day news broke that the two companies were discussing a possible deal.
"The merger values Avast's entire issued and to-be-issued ordinary share capital between approximately $8.1 billion and $8.6 billion, depending on Avast shareholders' elections," the companies said in a statement.
Analysts React
Frank Dickson, vice president of security and trust with research firm IDC, notes the deal provides the merged companies cost savings, an expanded customer base and regional diversity.
"The cost for developing anti-malware solutions is a fixed cost currently being borne by two entities. Combining the entities allows the effort to be monetized over a larger number of customers," he says.
Dickson also points out that bringing Avast into the NortonLifeLock fold will help enable Avast to sell to the retail sector, which he says is a market segment that's often overlooked by the cybersecurity industry.
"Avast is also the product of a past merger of Avast and AVG. AVG was a leader in the freemium model of customer acquisition. Thus, Avast brings an expertise in an alternative manner to acquire new customers," he says.
Bolstering Antivirus Offering
Forrester analyst Allie Mellen sees the deal as an attempt by NortonLifeLock to bolster its antivirus offering.
"Consumer antivirus solutions are under deep strain as users turn to built-in operating system security capabilities in lieu of third-party solutions," Mellen says. "As Microsoft and Apple prioritize native security built into their products, traditional antivirus providers have no choice but to look for new features and popular offerings that may differentiate them," she says.
Mellen, however, adds: "This merger is unlikely to stop the bleeding when it comes to loss of customers for traditional antivirus players due to the convenience and credibility of larger brands."
New Look
The new organization will operate under the NortonLifeLock name and will maintain headquarters in Prague and Tempe. It will be listed on the NASDAQ stock exchange.
NortonLifeLock's Pilette will remain as CEO and Natalie Derse will remain as CFO. Ondrej Vlcek, Avast's CEO, is expected to join NortonLifeLock as president and become a member of its board of directors. Pavel Baudiš, a co-founder and current director of Avast, is expected to join the NortonLifeLock board as an independent director.
The security firm Symantec purchased Norton in 1990. In 2016, it added the identity theft protection firm LifeLock to its portfolio in a $2.3 billion deal. NortonLifeLock was then spun off in 2019, becoming an independent, publicly traded company.