VA's Use of Mobile Devices: An Update
Slow-Going Until Mobile Device Management System Implemented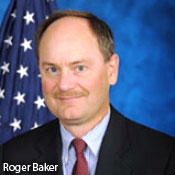 The Department of Veterans Affairs' effort to expand the use of smart phones and tablets won't pick up speed until after it implements an enterprisewide mobile device management system to monitor the devices and ensure security, says CIO Roger Baker.
See Also: COVID-19 Continues to Create a Larger Surface Area for Cyberattacks
Baker announced last fall that the VA would accommodate the use of as many as 100,000 iPads and iPhones, primarily for clinical purposes, within 18 months as many desktop computers are phased out. And to control costs, many of those Apple devices will be personally-owned by VA clinical staff members. "I don't have the budget to pay for 100,000 devices," Baker said in a Jan. 25 news media conference call.
Less than 1,000 of the Apple devices have been rolled out since the effort began last October. Implementation won't exceed 1,000 - and won't include personally-owned devices - until a more robust mobile device management system is implemented, Baker stressed. That system, which has not yet been purchased, could be installed in the second quarter, he added.
The VA already has a pilot version of a mobile device management system that it can use on a small scale to, for example, remotely wipe data from a device that's stolen and monitor whether only approved applications are running on a particular device. Soon it will select and deploy an enterprisewide mobile device management system, based on the cloud computing model, which could monitor 100,000 devices running multiple operating systems (see: VA Seeks Help with Mobile Security).
Accommodating personally-owned devices is more of legal issue than a technical one, Baker contended in a recent interview (see: VA CIO: Personally-Owned Devices OK). "We're establishing what it is that we'll have the user sign relative to their personally-owned device that will ensure, for example, I have the right to wipe any VA information off it at my discretion. It will ensure that if the device needs to be looked at for some reason, we will have access to it."
Pioneering Users
In the Washington, D.C., area, a group of clinicians is using a new application called Clinic in Hand on Apple devices to view clinical records and add information to them, Baker says. But to help ensure security, no records are stored on the devices. And the new application, like all apps running on the VA's mobile devices, uses encryption.
Baker reiterated that the VA likely will eventually also accommodate the use of devices running the Android operating system if they pose no new security risks. The long-term goal is to be "device agnostic," he said. "We've made it very clear that we don't know what the most desirable mobile devices will be in two years."