Data Loss Prevention (DLP) , Endpoint Security
Rubrik Buys Startup Laminar to Unify Cyber Posture, Recovery
Rubrik Spent More Than $100M to Acquire the Data Security Posture Management Vendor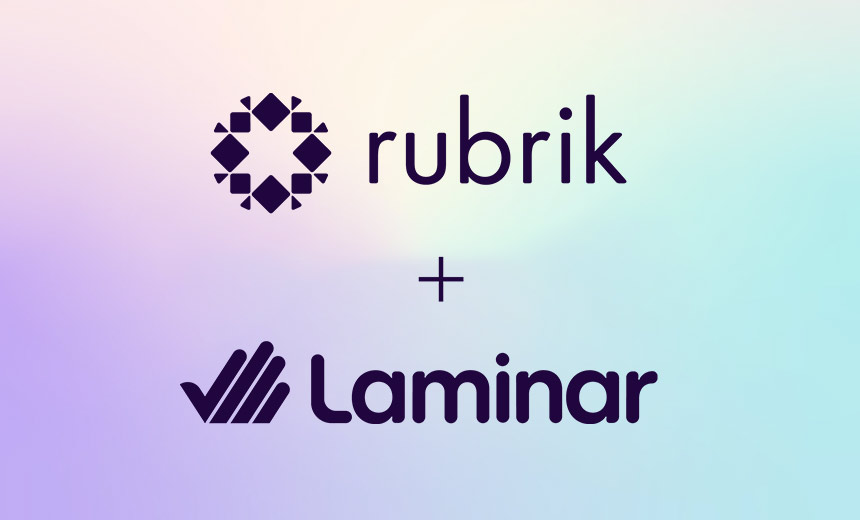 Rubrik purchased a data security posture management startup backed by Salesforce and SentinelOne to provide visibility into where a company's data lives and who has access.
See Also: Evaluating ZTNA: 10 Considerations
The Silicon Valley-based data security startup said its acquisition of New York-based public cloud data observability platform Laminar will help organizations expand their focus beyond network and endpoint security to encompass cloud and data security. The deal will allow Rubrik to create an R&D Center in Tel Aviv, Israel, to complement existing research and development sites in Bangalore and Silicon Valley.
"As the leader in the DSPM space, we are now going to solidify our edge even more - by providing a complete solution that combines data discovery, posture, access and recovery capabilities - all in one single platform," Laminar co-founder and Chief Technology Officer Oran Avraham wrote on LinkedIn.
Rubrik forked over more than $100 million of cash and stock to acquire Laminar, sources close to the deal told Information Security Media Group. Calcalist reported in May that Rubrik and data protection titan Datadog had been in advanced negotiations to acquire Laminar in a deal valued at between $200 million and $250 million (see: Why Datadog and Rubrik Are in Talks to Buy Laminar for $200M).
'There Is a Dark Side to Digital Transformation'
Laminar was founded in September 2020 by Magic Leap AI leader Amit Shaked and Medigate Chief Architect Oran Avraham, both of whom spent a half-decade in the Israel Defense Forces. The company employs 101 people and has raised $67 million in two rounds of funding with backing from Insight Partners, Salesforce Ventures and S Ventures, according to IT-Harvest.
"There is a dark side to digital transformation in the form of shadow data, and more businesses are realizing they can't protect against what they can't see," Shaked said in a statement. "The combination of cyber posture and cyber recovery will help create a cyber resilient future where organizations can take on any threat, at any stage of the attack."
Rubrik focuses on cyber recovery to help organizations pinpoint the time and scope of a cyberattack, identify whether sensitive data was potentially exposed, and quickly understand what data to recover to prevent reinfection. Laminar, meanwhile, looks to help businesses identify the footprints of an attacker early, limit the scope of the attack, and halt the attacker before they delete or exfiltrate sensitive data.
"We looked at dozens of DSPM platforms. Laminar shone bright as the leader."
– Anneka Gupta, chief product officer, Rubrik
Acquiring Laminar will allow Rubrik to provide visibility into cloud data that security organizations have traditionally lacked, Rubrik Chief Product Officer Anneka Gupta wrote in a blog post Tuesday. Gupta said the Rubrik team spent hundreds of hours with Shaked and Avraham and came away impressed with the shared commitment across the two organizations to securing data no matter where it resides.
"We looked at dozens of DSPM platforms," Gupta wrote. "Laminar shone bright as the leader because of the scalability of its architecture, consumer-grade customer experience, comprehensive product capabilities and deep understanding of data security challenges in the cloud."
Nearly 60% of Laminar's employees are based in Israel, roughly 30% are in the United States and the remaining 10% are in countries including the United Kingdom and India, according to IT-Harvest. IT-Harvest estimates a valuation of between $109 million and $147 million for Laminar and annual revenue of $7 million - or roughly $67,300 per employee - just 21 months after the company emerged from stealth.
Is an Initial Public Offering on the Horizon for Rubrik?
Laminar's signature offering is a cloud data security platform that discovers, classifies, prioritizes, secures and monitors sensitive data in Microsoft Azure, Amazon Web Services, Google Cloud Platform, Snowflake and other cloud platforms, according to IT-Harvest. It is designed to help organizations reimagine data security for the cloud and improve security outcomes while reducing cloud costs.
"Together, our teams will create an integrated offering that gives customers the benefits of cyber recovery and cyber posture capabilities and positions them to be resilient in their fight against cyberattacks," Rubrik Chief Business Officer Mike Tornincasa said in a statement.
Rubrik has raised more than $550 million since its founding in 2014, including a $261 million Series E funding round at a $3.3 billion valuation that helped Rubrik move into security and compliance. Despite the economic headwinds, the company has increased its headcount by 19% over the past year to 3,363 employees, according to LinkedIn. The most aggressive growth came in its sales and operations teams.
Reuters said in June that Rubrik is working with Goldman Sachs, Barclays and Citigroup in preparation for an initial public offering that could take place in 2024. The firm currently generates annual recurring revenue of about $600 million and may raise more than $750 million in its IPO. Rubrik in 2021 got an investment from Microsoft in the low tens of millions that valued the firm at $4 billion, Bloomberg said (see: Why Rubrik Is Looking to Break Cybersecurity's IPO Dry Spell).
Rubrik hasn't been shy about doing acquisitions to broaden its technological footprint, making buys in the unstructured data management and infrastructure automation spaces. Including Laminar, the firm has carried out four acquisitions in its nine-year history.