OMB Extends Freeze on New .Gov Websites
Three-Month Moratorium Extended to End of 2011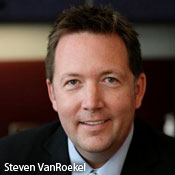 Federal CIO Steve VanRoekel has extended to year's end a moratorium on the creation of new executive branch websites.

In a memorandum issued late last week, VanRoekel said the freeze extension would "reinforce the importance of curtailing the proliferation of standalone .gov sites and infrastructure. Should agencies need to establish new web content during this timeframe, they should leverage existing .gov sites."

OMB Deputy Director Jeffrey Zients, VanRoekel's boss, unveiled a three-month freeze in June (see Feds to Purge Half of Websites).

***

Also read: OMB Plan Could Orphan Documents

***

In its plan, the administration seeks to reduce the number of executive branch .gov domains by one-quarter by next month, with the goal to reduce .gov domains by 50 percent within a year. The executive branch operates some 2,000 websites and about 24,000 microsites. A process has been developed for waivers to the freeze, which requires the approval of the federal chief information officer.

In his memo, VanRoekel established benchmarks for agencies to meet to develop a comprehensive web improvement plan to address the broader goals of simplifying content and infrastructure and ultimately improving customer service, VanRoekel said.

Agencies must provide to the Office of Management and Budget by Sept. 6 an interim progress report on streamlining agency-managed .gov sites that includes a list of domains shuttered since June 13, list of .gov domains redirected to or consolidated with existing domains and description of other streamlining plans underway but not completed.

By Oct. 11, agencies must furnish OMB with an inventory of .gov domain names and an assessment of its web governance as well as a web improvement plan that addresses its strategy for managing web resources more efficiently, improving online content and enhancing the customer experience.

VanRoekel said the .gov Reform Task Force will take agencies' filings to develop a federal web strategy that establishes the long-term vision of what the user/citizen experience should be with federal websites as well as common tools and practices to make federal web operations more effective and cost efficient.