NSA Outlines Steps to Reduce Leaks
Alexander Describes Methods to House Committee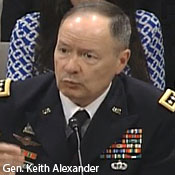 To prevent Edward Snowden-type leaks, the National Security Agency is considering a number of measures, including reducing the number of systems administrators it employs, NSA Director Keith Alexander says.
See Also: Fighting Machine-Speed Attacks With Autonomous Response
The agency also is considering requiring individuals with top-secret security clearance to be partnered to access certain classified documents.
Snowden, a former employee of contractor Booz Allen Hamilton who worked at the NSA as a systems administrator with top security clearance, admits he leaked information about programs designed to identify potential terrorists that he contends threaten Americans' civil liberties and privacy [see IT Tools Available to Stop NSA-Type Leaks].
Testifying on June 18 before the House Select Permanent Committee on Intelligence, Alexander said the NSA employs at least 1,000 systems administrators with security clearances, most of whom are on the payrolls of government contractors. "About 12 to 13 years ago, as we tried to downsize our government workforce, we pushed more of our information technology workforce, our systems administrators, to the contract arena," Alexander said. "That's consistent across the intelligence community."
Vetting Contractors
Alexander said contractors go through the same security clearance vetting processes as employees. Snowden initially received his security clearance when he worked as an employee for the Central Intelligence Agency, but he was not re-reviewed when he took the job with Booz Allen to be a contract systems administrator at the NSA, Alexander told the House committee.
"The mistakes of one contractor should not tarnish all the contractors because they do great work for our nation as well," the NSA director said. "I think we have to be careful not to throw everybody under the business because of one person."
By reducing the number of systems administrators - whether contractors or employees - there would be fewer people with top-security clearance the government would need to monitor. "If we could jump to that immediately, I think that would get us a much more secure environment and reduce this set of problems," Alexander said.
Even individuals with top-security clearances don't have access rights to all materials. They need certificates to gain access to specific classified documents. Alexander said investigators had not yet determined how Snowden might have gained access to information he wasn't authorized to see.
NSA Deputy Director John "Chris" Inglis suggested a process to limit access by systems administrators to prevent future leaks could be patterned after the two-person control process analysts follow when seeking classified information. An analyst who wants to access a classified document must get a second person with top-secret clearance to approve the process. "There is someone who provides oversight on that," the deputy director said. "There's a very special court-defined process by which that's done."
Alexander described Snowden's job as a system administrator as helping manage NSA's public web forums that focused on discussions about the work the agency performs. Snowden was not involved in collecting intelligence information, so he didn't get the more extensive training required for those who collect data.
Thwarting Terrorist Plots
Snowden leaked information about a program to collect millions of telephone numbers as authorized by Section 215 of the Patriot Act. But Alexander testified that the NSA only queried about 300 of those numbers to try to identify terrorists. That information helped thwart at least 50 terrorists' plots, including 10 that targeted the United States, Alexander said.
One of those queries, in 2010, helped lead to the capture of Khalid Ouazzani, who officials say schemed with Yemeni co-conspirators to blow up the New York Stock Exchange. Ouazzani pleaded guilty in 2010 on charges he sent money to al Qaeda. Another case involved an individual who was arrested for furnishing financial support to Somalian extremists.
FBI Deputy Director Sean Joyce characterized the program to capture the metadata of telephone calls - essentially the information found on a phone bill - as one of the factors that, on their own, might not have prevented terrorists attack. But he said that the metadata, combined with other intelligence, helped keep the nation safe. "Every tool is essential and vital, and the tools have been valuable to stopping some of those plots," he said, responding to a committee member. "You ask, 'How do you put value on an American's life?' And, I can tell you it's priceless."