Mobile Banking: Consumer Education Needed
Awareness Needed About Mobile Security and Safe User Practices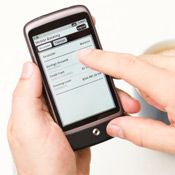 In a recent survey of the United States' top 25 financial institutions, Javelin Strategy & Research found that mobile banking and mobile payments are catching on.

Most institutions appreciate the value of mobile offers; 23 of those top institutions offer some sort of mobile-banking service - SMS/text, downloadable applications, WAP/browser or a combination of all three, also known as a "triple play." That's an improvement from 2009, says Mary Monahan, managing partner and research director at Javelin, when less than 50 percent of the same banking institution set played active roles in the mobile space.

"Mobile banking is a must-have now," says Monahan, who oversaw development of the 2011 Mobile Banking Financial Institution Scorecard, which Javelin released today.
Mobile Money
From banking to payments, Monahan says most institutions follow a 1, 2, 3 process - meaning they start with basic mobile-banking offers like SMS/text-based banking and eventually migrate toward more complex offers, such as peer-to-peer or P2P payments.
"Money is finally starting to move on the mobile channel ... and P2P is the first step," Monahan says.
About 26 percent of the banks Javelin surveyed are offering some form of mobile P2P. "Basically, they are building out their functionality," she says.
The good news about typical P2P services is that the services rely on text-based banking. Even users without smart phones can use mobile P2P.
But smart phone users are the biggest adopters of mobile banking. "Only 14 percent of consumers with basic mobile phones are using mobile banking," Monahan says. And the advent of mobile tablets is expected to alter that paradigm, too, as more users embrace the tablet over the mobile phone.
The relatively low price-point for mobile tablets will encourage their ubiquity; and with the enhanced mobile capabilities tablets offer, more consumers, armed with tablets in 2012, are likely to become users of mobile banking.
"The tablet is going to be a game changer," Monahan says. Banks have to be ready.
Apps for tablets will require some thought, since consumers spend more time browsing on mobile tablets than they do on mobile phones. "Banks will have to have deeper dives, and it's going to be key for banks to have a tablet-specific app," she says.
Trying to port mobile apps for smart phones over to tablets gets clunky.
Selling Security
A point for banks and credit unions to note: Don't underestimate the value of strong consumer education.
"The main reason consumers don't move to mobile banking is because of security concerns," Monahan says. Consumers want to know that their mobile interactions and transactions are encrypted, and they want some assurance that they will be reimbursed for losses associated with a mobile-banking breach.
"Banks need to educate consumers about what they offer and how they are protecting the mobile channel," she says.
What are the minimum educational steps banks and credit unions should take? Monahan highlights the top three:
Institutions should post mobile banking security guarantees on their websites. The guarantees should be prominent, on the homepage, for instance, so consumers can quickly find them.
All banking institutions offering mobile banking through downloadable apps should have the ability to remotely deactivate apps that could be infected or contain malicious code.
Every institution should spearhead a strong consumer education campaign, one that educates consumers about safe mobile-banking practices, while also informing them about mobile offers provided by their banks or credit unions. [See Mobile Security: Your #1 Threat.]
"Only 17 percent of financial institutions are educating their customers about mobile malware and anti-virus software," Monahan says. "Education is primary to this channel, and banks need to do more. If you're going to have a mobile-banking offering, you've got to have a marketing effort."