Professional Certifications & Continuous Training , Recruitment & Reskilling Strategy , Training & Security Leadership
Microsoft Launches Cybersecurity Recruitment Campaign
Company Aims to Fill 250,000-Worker Shortfall in Cybersecurity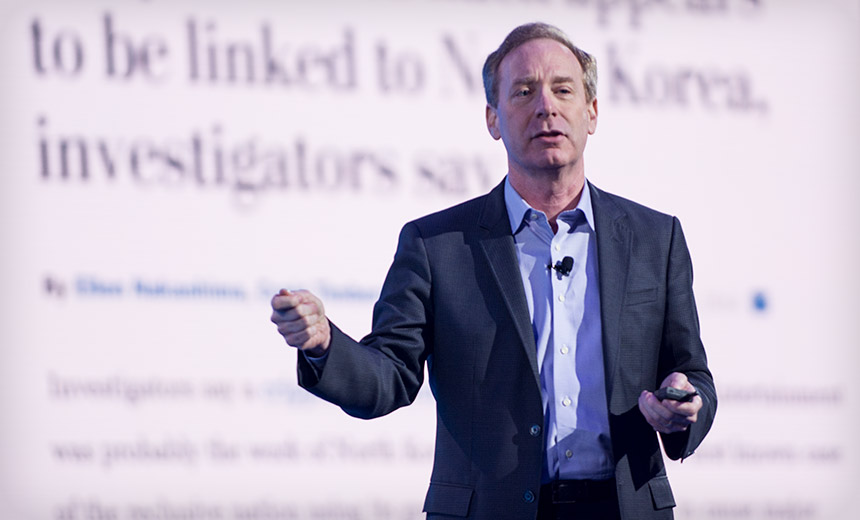 Microsoft launched a four-year campaign on Thursday with community colleges in the U.S. aimed at recruiting hundreds of thousands of people into the field of cybersecurity.
See Also: Live Webinar | Breaking Down Security Challenges so Your Day Doesn't Start at 3pm
It's expected that as many as 250,000 cybersecurity jobs will be unfilled by 2025, which could pose new risks as nation-states and ransomware gangs launch attacks, according to a blog post from Brad Smith, Microsoft's president and vice chair. Those risks can't be mitigated without a bolstered workforce, he says.
"The country's cybersecurity challenges in part reflect a serious workforce shortage," Smith writes. "Until we redress the cybersecurity workforce shortage, we will fall short in strengthening the country's cybersecurity protection."
Smith says foreign governments have been tampering with software supply chains, and criminal ransomware gangs have attacked schools, hospitals and a critical national pipeline (see: Colonial Pipeline Attack Leads to Calls for Cyber Regs).
Incidents such as those are driving a booming cybersecurity field. In the U.S., Microsoft says, 1 out of every 20 jobs is now a cybersecurity job. Smith says there are 464,200 open jobs in the U.S. that require cybersecurity skills, which amounts to 6% of all of the open jobs in the country.
The jobs, which are all over the country, pay an average of $105,800 and don't necessarily require a bachelor's degree.
"Many of these open jobs don't require a four-year college degree," Smith writes. "You can qualify by earning an industry-recognized certificate or by getting a certificate or associate degree from a community college."
National Resource: Community Colleges
The company's program is centered around the nation's 1,044 community colleges that serve more than 11.8 million students. Community colleges are often far cheaper than four-year universities and offer specialized training.
Those community colleges can also help with increasing diversity in the cybersecurity workforce given their students are 40% Black, African American and Hispanic. Microsoft says that 82.4% of cybersecurity jobs are held by men, of which 80% are white.
One prong of the company's plan is to provide community colleges with free curriculum, tools and training through its Microsoft Learn for Educators program.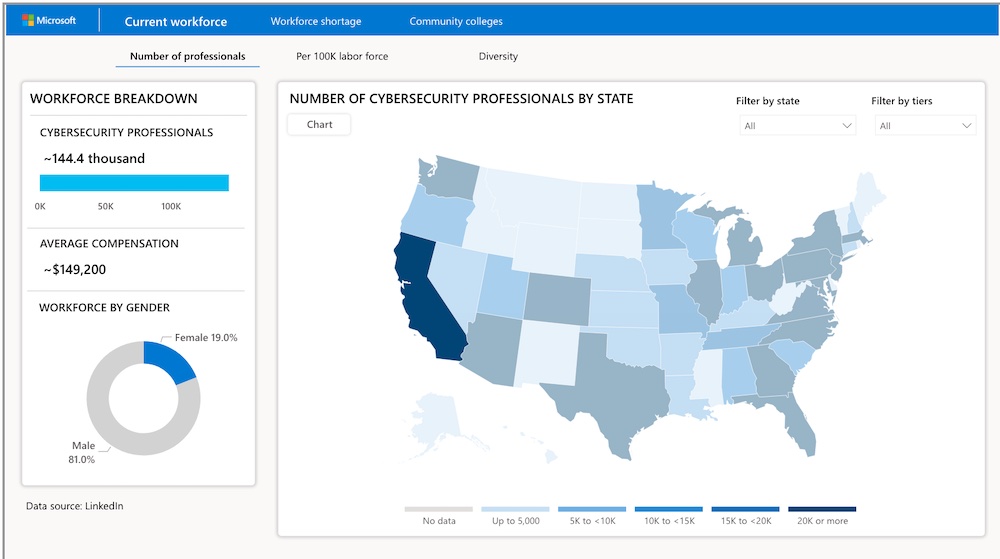 California has a shortfall of 144,400 cybersecurity professionals. The average pay in that state is $149,200. (Source: Microsoft)
As could be expected, the curriculum is heavy on Microsoft technologies. It will include Microsoft Security, Compliance and Identity Fundamentals (SC-900) and Microsoft Azure Security Technologies (AZ-500) certifications.
Educators will get access to "additional resources including free practice and certification exams, curriculum integration support, course delivery prep sessions led by Microsoft Technical Trainers, and entry to our global community of educators committed to helping students succeed."
LinkedIn, which is owned by Microsoft, will also play a role, with its LinkedIn Learning education functions. LinkedIn will also give away Premium accounts to students to aid them with networking.
Training, Scholarships
Microsoft is also going to provide training for faculty at 150 community colleges. It says it will partner with the National Cybersecurity Training & Education Center to provide deeper professional development.
It will also help those institutions attain the Center of Academic Excellence in Cyber Defense - or CAE-CD - designation. According to the National Security Agency, the CAE-CD is awarded to regional institutions that offer cybersecurity degrees or certificates either at the associate, bachelor's or graduate levels.
"This support will build the foundation for cybersecurity training at nearly 15% of the community colleges across the United States," Smith writes.
Microsoft will give grants and technical assistance to 42 community colleges as part of a program called Cyber Skills for All with the American Association of Community Colleges.
As part of the third component of the program, Microsoft will give scholarships and resources for 25,000 students over the next four years.
"This will provide funding to supplement existing federal, state and other financial aid that is already available but is not sufficient to meet student needs, especially at the lower end of the income spectrum," Smith writes. "This funding will help address tuition costs as well as the other financial challenges that often stand in the way of course completion, including certification exam costs and childcare expenses."