Endpoint Security , Internet of Things Security , Open XDR
Insight Partners' Latest Purchase: IoT Security Firm Armis
Private Equity Firm Expects to Close Deal in February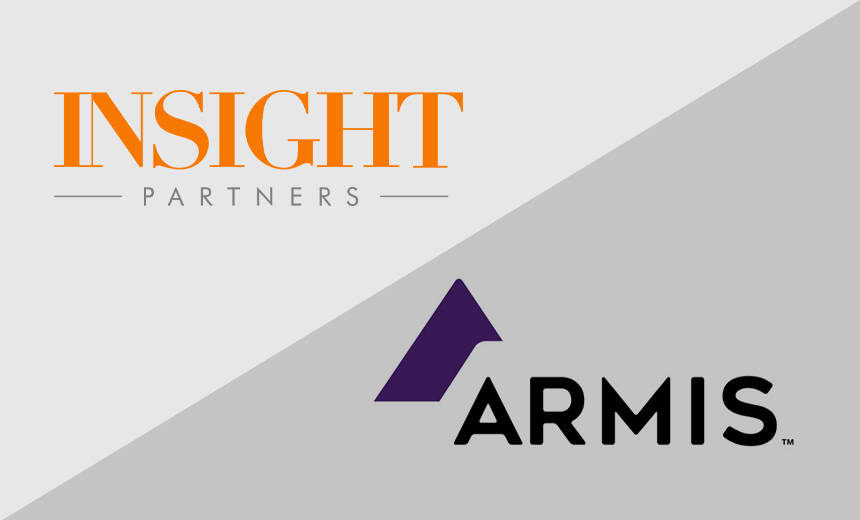 Private equity firm Insight Partners plans to acquire yet another security company. This time it's internet of things security startup Armis. The all-cash deal, valued at $1.1 billion, is expected to close in February.
See Also: Live Webinar | How To Meet Your Zero Trust Goals Through Advanced Endpoint Strategies
Private equity firm CapitalG - the new name for Google Capital – will contribute $100 million toward the deal, according to an announcement made Monday.
Established in 2015, Armis, based in San Francisco and Israel, has mainly focused on securing IoT and other connected devices, including medical equipment as well as technology used in connected automobiles. Armis has raised $112 million in private equity funding through four investment rounds since its founding, according to the Crunchbase database.
Insight Partners had previously invested in Armis; other investors have included Sequoia Capital, Bain Capital Ventures and Red Dot Capital Partners.
Armis' customers include several firms in the Fortune 100, including Allergan, Mondelez, Oracle and Sysco Foods, according to the company.
"Armis is one of the most ground-breaking enterprise data-centric security solutions that is actively protecting modern businesses today," Jeff Horing, managing director of Insight Partners, says in a statement. "Having achieved exponential growth to date, we are proud to be the partner Armis can leverage to help execute their vision of protecting unmanaged devices proliferating every vertical around the world."
The deal between Insight Partners and Armis is the second significant security acquisition that's happened this week. On Tuesday, Accenture announced that it would buy the former Symantec Cyber Security Services business from Broadcom for an undisclosed sum.
Demand for IoT Security
After the deal closes in February, Armis will remain independently managed. That executive team will include CEO Yevgeny Dibrov and Nadir Izrael, the company's CTO.
The company recently released a report that showed about 90 percent of all connected devices will be either unmanaged or unsecured by 2021. Analyst firm Gartner finds that there will be nearly 25 billion connected devices in circulation by 2021.
"One of the biggest challenges keeping CIOs and CISOs up at night is how to secure the unmanaged devices proliferating through their businesses, from manufacturing floors to hospital rooms, from airports to boardrooms," Izrael says. "With the backing of Insight, we will continue to expand our world-class technology to help identify devices, track their behavior and respond to the threats that target them."
Investing in Security
Over the past 15 years, Insight Partners has invested in over 20 security companies, including Thycotic, Tenabley, Cylance and Mimecast.
In May, Insight Partners announced it acquired threat intelligence specialist Recorded Future for $780 million in cash (see: Sale of Recorded Future a Highlight of Big InfoSec M&A Week).
Other private equity firms are also increasing their security investments.
In October, for instance, Thoma Bravo announced plans to buy U.K.-based security company Sophos for $3.9 billion
Thomas Bravo also has made investments in Barracuda Networks, Imperva, SolarWinds and Veracode. It's also a major stakeholder in MacAfee, which had been expected to announce a new initial public offering by the end of 2019 (see: Cybersecurity Firm McAfee Preps for Public Market Return). But a formal IPO announcement has not yet been made.