Governance & Risk Management , Information Sharing , Professional Certifications & Continuous Training
India, Singapore Agree on Information Sharing
Partnership to Set up Better Incident Response Mechanism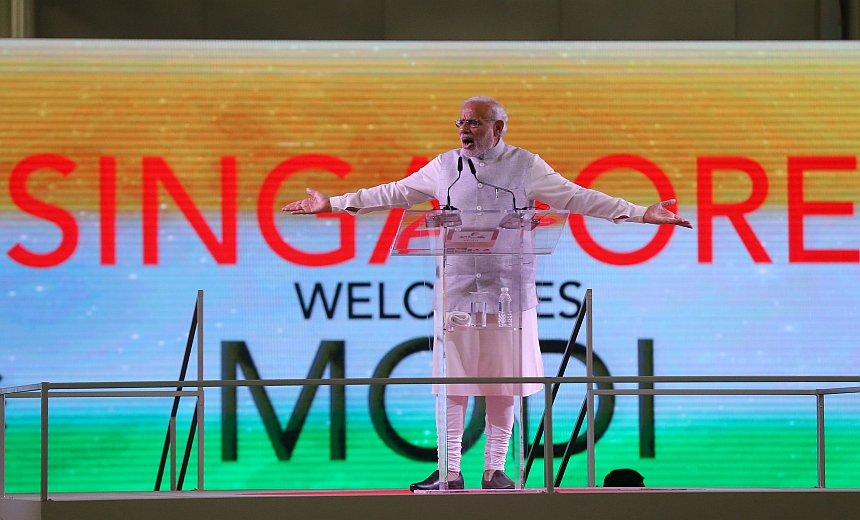 India and the Singapore government signed a memorandum of understanding to establish formal co-operation in cybersecurity between the Singapore CERT and the CERT-In to build effective an incident prevention and response mechanism and an information sharing platform to tackle cybersecurity challenges.
See Also: 451 Research Report: Tackling the Visibility Gap in Information Security
Security practitioners commend the initiative, saying the co-operation will help combat trans-border cybercrime and effectively address the threat landscape.
"The key advantage is in sharing of intelligence to combat current and future trans-border cybercrime and help in forging more alliances with other nations," says Singapore-based John Lim, president, ISACA-Singapore chapter.
Chuan-Wei Hoo, technical advisor, Asia-Pacific, (ISC)2, argues that in today's changing threat landscape, it is difficult to fight the cyber battle alone, as the possibility of the black swan mindset is high. "It is important to create visibility in terms of security planning, and this is only possible through information sharing between nations."
Insights of the Pact
The MOU was signed by David Koh, Chief Executive of the CSA, Singapore, and Anil Wadhwa, Secretary (East), Ministry of External Affairs, India, in the presence of Prime Minister Lee Hsien Loong of Singapore, Prime Minister Narendra Modi of India and minister for Communications and Information and minister-in-charge of cybersecurity, Dr Yaacob Ibrahim.
The agreement focuses on five key areas:
The establishment of a formal framework for professional dialogue;
CERT-CERT related cooperation for operational readiness and response;
Collaboration on cybersecurity technology and research related to smart technologies;
Exchange of best practices;
Professional exchanges of human resource development.
According to Koh, Singapore and India already have a strong partnership on cybersecurity matters.
"This MOU is another step forward, as it brings together our Computer Emergency Response Teams to advance our ability to prevent as well as respond to new threats and vulnerabilities and work alongside CERT-In to build a safe and secure cyber space."
"The partnership underlines our shared commitment to deal with our security challenges; now we have an environment that is open and welcoming...And we will continue with our reforms with speed and boldness," Modi said.
"Our agreement to cooperate in cybersecurity is very important as our lives get more networked; cybersecurity is emerging as one of the most serious concerns of our age," he says.
Hoo says collaboration between countries is important where intelligence collection is concerned, and it is about information sharing. "The two countries need to work on a pattern to gather intelligence of potential attacks and threat - as most often, the data presented does not provide any meaningful measurement, and cognitive analysis is required to interpret it," he says.
"Also, to understand/interpret/predict potential attacks, the teams must be equipped to understand the fundamentals of information/cybersecurity," he argues.
Impact on the Cybersecure Future
Practitioners believe that the partnership will have a positive impact on both the countries if only the information sharing mechanism and a formal framework are evolved in building the necessary capacity of info security professionals, awareness and skills.
Experts state that while there is no formal information sharing platform that anyone is aware of in India or Singapore, the usual sharing mechanism is as simple as a telephone call or secure email.
Considering information sharing on cybersecurity is typically of high risk, they suggest that exchange programmes are a good way to start and exchange pointers and perspectives between CERTs and beyond.
For effective implementation of their agreement, Hoo says the CERTs need to address cybersecurity in a holistic framework that can incorporate:
Education for the general mass and next generation;
Awareness and training for future professionals;
Responsive security management team aligned with critical resources;
Fit-for-purpose controls;
Security management to gauge the impact of control failure.
Lim stresses the need for an optimal combination of technical understanding with an overall appreciation of how everything comes together in the technology world. "To make the country security savvy, I believe Singapore needs more professionals who are able to make sense of cyberattacks at the lower level, including analyzing malware and suspicious software," Lim says.
Another area that the two countries must build on is encouraging public private partnership, a key component of information sharing in the cybersecurity space.
"Only through such arrangements can cyber threats be managed effectively. Singapore has done well with a combination of legislation and engaging private sector companies. Again, Singapore's model could be used as an example by other countries and evolve a new structure in this partnership," says Lim.
Hoo says India and Singapore can start making security industry certification a prerequisite for employment and provide incentives for adoption of good cyber hygiene practices within enterprises.
As per CERT-In sources, the partnership will promote and exchange cybersecurity information including information on cyberattacks, research collaboration in smart technologies, cybersecurity policies and best practices.
A topic worth noting, that practitioners claim, is the ongoing debate on security vs.privacy and it always advocated security being the key driver in cyber protection. At the same time, there's also a need to ensure privacy.
Hoo, "There is no right or wrong answer here; it's very much dependent on the situation as the compromise will be to use security to ensure privacy, adopt responsive and insecurity management - basically a maker/checker approach."
"Often, we see people trying to reinvent the wheel but most importantly, determining the right size of the wheel that fits best is key to tackle cybersecurity challenges of the two nations," says Hoo.