Howard Schmidt's Legacy: In His Words
Interviewing the Retiring Cybersecurity Coordinator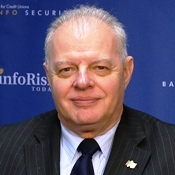 Even before he became White House cybersecurity coordinator in January 2010, Howard Schmidt sat for interviews with Information Security Media Group, the first one with the then nascent BankInfoSecurity in early 2007.
See Also: Evaluating and Reducing Supply Chain Risk
On May 17, the White House announced Schmidt would retire as cybersecurity coordinator at the end of the month, to be replaced by Michael Daniel, an Office of Management and Budget bureau chief [see Obama Cybersecurity Coordinator Resigns].
From that January 2007 interview, Schmidt identified the end user as the No. 1 information security threat on the horizon for financial institutions. Why? "The end user, the one that uses that [remote banking] service, is probably the biggest threat because not everybody is savvy about technology, and more specifically savvy about what it takes and what it means to really be secure."
The next time we recorded an interview with Schmidt was 2½ years later, when his named surface as a possible cybersecurity coordinator, more than four months before being named by President Obama in December 2009 (he assumed that post in early 2010). At the time of the August 2009 interview, Schmidt was president of the Information Security Forum, and he discussed the challenges the federal government faced in battling cyberthreats.
A week after becoming the president's top IT security adviser, Schmidt spoke at the Advisory Committee to the Congressional Internet Caucus' State of the Internet Conference in Washington, presenting an optimistic assessment of the state of cybersecurity, though he didn't downplay the real threats that exist. Afterward, he held an impromptu press conference.
Two months later, at the RSA security conference in San Francisco, Schmidt gave only a handful of interviews, one to GovInfoSecurity: Howard Schmidt Dismisses Cyberwar Fears.
At the most recent RSA conference earlier this year, Schmidt sat down with us for two video interviews, one on the prospects of Congress enacting significant cybersecurity legislation and another on one of his favorite projects, the National Strategies on Trusted Identities in Cyberspace. (See both interviews in the viewers below.)
Schmidt Hopeful on Bill's Passage
rsa2012_Howard_Schmidt_640x360-2
Going After Security's Low-Hanging Fruit
rsa2012_Howard_Schmidt_640x360