Hard Facts About APT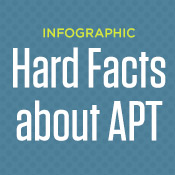 Today's sophisticated attackers use ever-stealthier malware and zero-day exploits to evade traditional security defenses, making organizations increasingly vulnerable to advanced persistent threats (APTs). These APTs seek to exfiltrate critical data over the long term. Palo Alto Networks and ISMG recently surveyed over 300 global information security leaders about how to prevent, detect and defend against APTs.
Review this infographic for details on the key responses.