Hagel Sees Cybersecurity as Top DoD Priority
Nominee Promises to Collaborate with Other Government Entities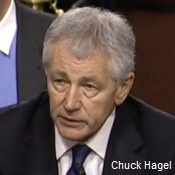 Chuck Hagel, President Obama's nominee for defense secretary, says cybersecurity would be a high priority if the Senate confirms him.
See Also: Restructuring Your Third-Party Risk Management Program
"Cyber represents as big a threat to this country as any significant threat," Nagel told the Senate Armed Services Committee. "It's insidious, a quiet kind of threat we haven't quite seen before. It can paralyze a nation in a second."
During the Jan. 31 hearing, Sen. Angus King, I-Maine, addressed Hagel about the threats of cyberwar. "People can die and society can be brought to a standstill without a rocket ever taking off or an airplane penetrating our air space," the newly minted senator said. "I hope that will be a point of emphasis because that, as I say, could be the next war."
Hagel responded that he agreed with everything King said. "This is a huge issue that continues to loom large over our future and our security. It will have, if confirmed, a lot of my attention."
Before the confirmation hearing, Hagel submitted a 112-page document, obtained by The Hill, answering questions posed by committee members on a number of topics, including cybersecurity. Hagel, quoted in the report, said he would carefully consider various cyber-challenges facing the department and consult with other military officials and agencies before making decisions that will affect the country's cybersecurity policy.
Hagel said the Department of Homeland Security leads the country's domestic cybersecurity efforts with the Defense Department, when needed, providing military forces to deter an adversary, as well as prevent cyberthreats against critical infrastructure and classified networks. Still, Hagel said various departments within the federal government and industry should share information about cyberthreats and work together to boost network defenses.
"I believe that the defense, homeland security and law enforcement communities should work together, and with our private sector partners to improve network defenses, share information on cyberthreats, and ensure swift response to threats when they manifest themselves," he said in response to panel members' questions.
The U.S. Cyber Command, according to published reports, seeks to quintuple the size of its workforce to about 4,000 over the next few years. Hagel, in the document submitted to the Armed Services Committee, concedes that recruiting and training skilled military and civilian personnel needed for cyber-operations at U.S. Cyber Command "will be a challenge" in light of the looming budget cuts facing the department. "This is a high priority area for the department with regard to investment of both resources and management oversight and, if confirmed, I will review these systems and practices," Hagel said.
Hagel, in his testimony, noted the "agonizing three months" at the end of 2012 that the Senate experienced in trying, unsuccessfully, to enact comprehensive cybersecurity legislation [see Senate, Again, Fails to Halt Filibuster]. He said Congress needs to act on cybersecurity legislation to address conflicting intergovernmental authorities and capabilities.