FTC Probes BitMart After $200M Theft at Crypto Exchange
Investigation Is Latest Evidence of Crypto Fraud Crackdown by Feds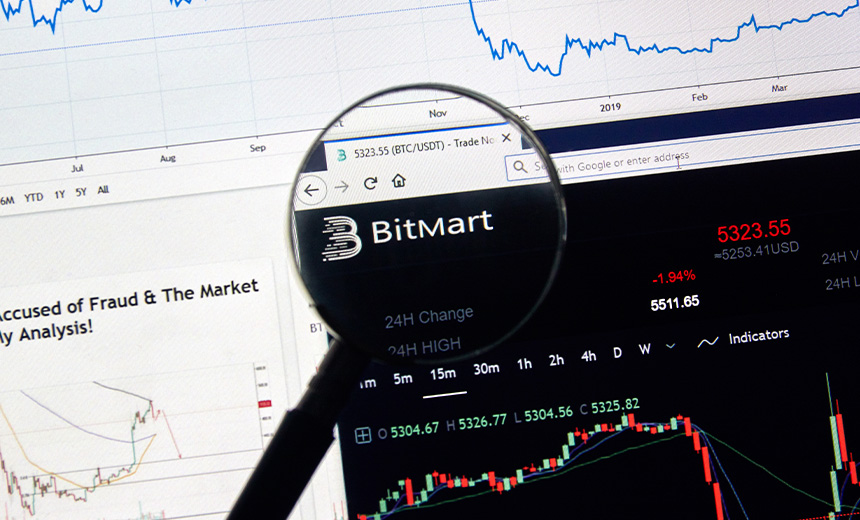 The U.S. Federal Trade Commission is investigating the operators of a cryptocurrency platform that lost $200 million of investor funds in one of the biggest crypto cyberattacks of 2021.
See Also: OnDemand | Understanding Human Behavior: Tackling Retail's ATO & Fraud Prevention Challenge
The agency initiated the newly disclosed probe of BitMart's U.S. operators Spread Technologies and Bachi.Tech in the months after President Joe Biden signed an executive order calling for stronger consumer and investor protections in the cryptocurrency world.
In December 2021, nearly $200 million was stolen from BitMart, blockchain analytics firm PeckShield estimated. PeckShield's assessment at the time showed that the company lost approximately $100 million in several cryptocurrencies on the Ethereum blockchain and another $96 million in coins on the Binance Smart Chain. BitMart CEO Sheldon Xia said in a tweet that the company would use its own funding to cover losses for affected users, adding later that an internal investigation showed that the breach "was mainly caused by a stolen private key." BitMart customers earlier this year said they had yet to receive reimbursements.
The investigation's disclosure comes as the agency declined petitions from the two companies to quash the agency's civil investigative demands. The FTC is probing whether Spread or Bachi.Tech misled consumers about the extent of its data security and consumer privacy protections and whether it violated safeguards for personal information mandated by the Gramm-Leach-Bliley Act. The two companies are represented by the same counsel, Todd Harrison and Joseph Evans of McDermott Will & Emery.
Both companies argued the agency's demand for records was "overbroad" and that the information sought is irrelevant, burdensome to produce, "likely" under foreign law protection and located outside the United States.
The arguments are "without merit," the agency says, and the companies' claims of undue burden and overbreadth are "conclusory and unsupported." Their invocations of foreign law fail to identify any actual foreign law, which in any case doesn't necessarily prevent a U.S. court from ordering a party subject to U.S. jurisdiction to disclose evidence.
The action by the FTC is among the many firsts undertaken by the federal government in its bid to tamp down digital asset fraud. In May, it sanctioned its first virtual currency mixer - Blender.io. The Department of Justice in July disclosed charges related to its first cryptocurrency insider trading case and in March charged its first non-fungible token rug pull case.