FDIC: 884 Troubled Banks
Number of 'Problem' Institutions up from Q3 of 2010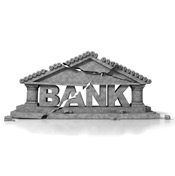 The number of banks that made the 2010 fourth-quarter listing of the Federal Deposit Insurance Corp.'s "Problem List" totaled 884, up from 860 in Q3. Total assets of these "problem" institutions also increased, hitting $390 billion, up from $379 billion in total assets reported for the previous quarter.

Despite positive deposit growth for the second consecutive quarter, 30 FDIC-insured banks failed in Q4. An additional 73 were absorbed in mergers, the FDIC says. For the year, 197 banks were absorbed through mergers.

Bank failures hit an 18-year high in 2010, when 157 failed, the highest total since 1992, when 181 banks failed.

But growth in deposits for Q3 and Q4 helped fuel a year-end asset growth. The FDIC says deposits funded 70.7 percent of total industry assets, the highest proportion since Q1 1996. Deposits for Q1 were up 1.6 percent, totaling $149.3 billion; during Q3, deposits were up 1.5 percent, totaling $132.7 billion.

So far in 2011, there have been 24 failed banking institutions -- 22 banks and two credit unions.