Artificial Intelligence & Machine Learning , Next-Generation Technologies & Secure Development
EU Chief Announces Plans to Boost AI Development
EU Will Grant AI Startups Access to Supercomputers, Commission President Says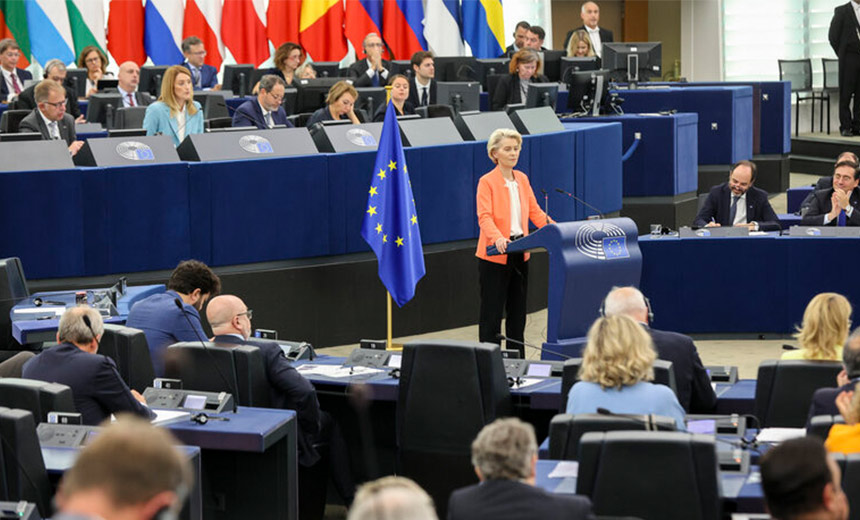 The European Union will open up supercomputers to artificial intelligence startups in a bid to boost innovation inside the trading bloc, European Commission President Ursula von der Leyen said Wednesday.
Europe houses three of the five most powerful supercomputers in the world, von der Leyen said during an annual speech before the European Parliament. The German center-right politician is expected to seek a second term in continental elections slated for next year. She vowed to dedicate the remainder of her term to boosting Europe's quivering economy. "Europe will do whatever it takes to keep its competitive edge," she said.
With the developments in artificial intelligence "moving faster than even its developers anticipated," von der Leyen said, Europe has a "narrowing window of opportunity" to develop a global framework on AI to guide responsible innovation. Europe is set to host two exascale computers accessible to researchers and industry by 2025. These computers are capable of a billion-billion calculations per second.
The European Parliament in June approved regulations intended to mitigate AI's societal effects. In October, the AI Act is set to enter final negotiations with a committee of member state representatives and come into force in early 2026.
In the interim, von der Leyen said, the EU will work with artificial intelligence companies to voluntarily commit them to principles of the AI Act before it goes into effect. In seeking voluntary pledges from industry, Europe will follow the Biden administration in the United States, which, in the absence of AI regulatory legislation, has sought companies' adherence to a set of principles (see: IBM, Nvidia, Others Commit to Develop 'Trustworthy' AI).
Despite the EU's optimism about the AI Act, critics have argued the proposal contains flaws and lacks clarity governing its implementation.