DoD Names Cyber Policy Leader
Eric Rosenbach to Work with Panetta to Help Formulate Strategies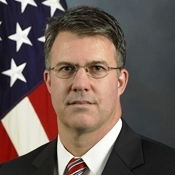 Eric Rosenbach, who led the global cybersecurity practice at Good Harbor Consulting, is the new deputy assistant secretary of defense for cyber policy, Defense Secretary Leon Panetta announced Tuesday.

Rosenbach began his assignment on Sept. 26 and works with Panetta and other top DoD leaders to formulate, recommend, integrate and implement policies and strategies to improve the Defense Department's ability to operate securely in cyberspace.

At Good Harbor, headed by former presidential cybersecurity adviser Richard Clarke, Rosenbach advised executives at large companies on cybersecurity risk mitigation strategies. Previously, he served as executive director at the Harvard Kennedy School's Belfer Center for International Affairs, managing the center's operations and teaching classes on cybersecurity and counterterrorism policy. He also co-directed a joint Harvard/Massachusetts Institute of Technology project on international cybersecurity policy.

Rosenbach served as national security adviser for former Sen. Chuck Hagel, R-Neb.; staff member of the Senate Select Committee on Intelligence; and chief security officer for Europe's largest Internet service provider.

A former Army intelligence officer and Fulbright Scholar, Rosenbach has co-authored and co-edited several books on national security issues. He holds a law degree from Georgetown University, a master in public policy from Harvard Kennedy and bachelor of arts from Davidson College.