Why Consumers Trust Online Banking
ABA Survey Says Online 'Just Makes Life Simpler'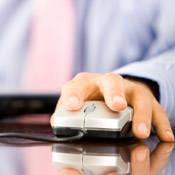 Acceptance of online banking among U.S. consumers is accelerating at an increasingly high rate, despite long-held industry perceptions that consumers distrust online security.

In an August survey conducted by the American Bankers Association that polled more than 2,000 U.S. adults, the ABA found that online banking was the preferred banking channel for a vast majority of consumers - 62 percent. That percentage, which included all age groups, skyrocketed from only 36 percent in 2010.

The primary reason for the spike: More adoption among older users, those who fall in the 55 and up category.

In 2011, 58 percent of respondents in the 55 and up age group said they preferred online banking. In 2010, only 20 percent listed online banking as the preferred channel.

Online banking has since 2009 been ranked overall by consumers as the so-called preferred channel relative to branch, ATM, mail, telephone and mobile banking. But the significant year-over-year increase in adoption among older Americans is telling.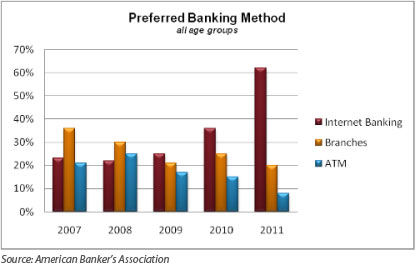 Nessa Feddis, senior counsel and retail banking expert for the ABA, says that new acceptance is a reflection of consumers' need for convenience and an increasing comfort level with technology.
"The reason I think the online channel is more popular for this age group is because they are on Facebook and they're using the Internet more than have in the past," she says. "They've gotten more adept at being online, and it just makes life so much simpler. They want convenience. People in that age group are still very busy."
Online banking is easy, and consumers trust the channel. "It's like any new technology - the people who didn't grow up with it are dying off," Feddis says. "The people in this age group are different than the group that fell into this category 10 years ago."
Confidence in the online channel has been worrisome for most banking institutions, as phishing attacks and other socially engineered schemes aimed at gathering online log-in and password credentials continues to grow. Consumer and corporate account takeover incidents have been touchy spots for the financial industry, and were catalysts for the Federal Financial Institutions Examination Council issuance in June of updated guidelines for banks' and credit unions' online security practices. [See the updated FFIEC authentication guidance.]
Online: What the Results Mean for Banks
Incidents of corporate account takeover are increasing, but banking institutions are doing a better job of preventing financial losses. According to the Financial Services Information Sharing and Analysis Center, whose Account Take Over Task Force in March completed a first-time survey about ACH- and wire-related fraud, banks and credit unions have made improvements in online-fraud detection and prevention.

"Banks and customers are recognizing the situation sooner and are getting into response mode quicker, and so they're able to retrieve the funds before the transactions are irreversible," says Errol Weiss, head of the FS-ISAC task force.

Besides, in the larger picture of account takeovers, which affect businesses and consumers, online fraud is not the greatest worry, says Phil Blank, part of Javelin Strategy & Research's Security, Risk and Fraud Practice. Most incidents of account takeover are actually perpetuated via relatively low-tech means, not phishing.

According to Javelin's annual Identity Fraud Survey report, a consumer-based survey released in February, account takeover most often results when fraudsters change physical mailing addresses or register unauthorized account users. [See the ID Fraud: New Accounts Most at Risk.]

"The No. 1 takeover in 2010 was change of physical address, and adding a new registered user fell to second place," Blank says. "It doesn't surprise me that if you make the assumption that many account takeovers are done through things like man-in-the-browser attacks, that as more technology to mitigate man-in-the-browser attacks is out there, those takeovers would go down."

Feddis says those increased investments in technology at the bank and consumer levels have fueled confidence in online banking. "I think the reason you see an uptick in use here is because the channel is more secure," she says.

Feddis adds that increased online banking usage should not concern banks about heightened fraud risks. Instead, banking institutions should see increased use as a way to expand their online offerings across various demographics.

"I don't think this should impact security concerns at all. Banks are already ensuring robust security," she says. "Concerns about ID theft, have died off a little in the press, and everyone has gotten better at preventing identity theft. You actually see more unauthorized debit or credit card transactions, so it's important for consumers to track those transactions and keep up with that kind of fraud; and electronic banking or online banking makes it easier to keep up with what's going on in their accounts."