Sparing Cybersecurity from the Budget Ax
Departing Defense Deputy Secretary Advises Where Not to Cut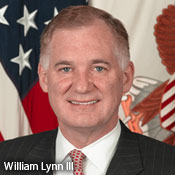 Budget cutting, even to such sacred cows as the Defense Department, is all but a given.
It's a fact accepted by the highest ranking DoD officials, as reflected in remarks delivered Wednesday by departing Deputy Secretary William Lynn III (see Lynn to Leave No. 2 Post at Pentagon), who cautions that cuts, when they come, must be carefully applied, and certain areas must remain exempt from the budget ax, such as cybersecurity. Here's what Lynn said in his farewell address, delivered at the Center for American Progress:
"We need to reduce spending but it must be done in a careful, considered fashion. We should bring troops levels down in an orderly manner that allows us to configure our forces to confront emerging threats. We should avoid across the board reductions that compel retrenchments in every theater. We should trim modernizations but preserve increases in key areas, such as cybersecurity and long-range strike. We should reduce the civilian workforce but avoid furloughs. And we should make sensible, fair adjustments to military pay and benefit that avoid breaking faith with the military families who have not broken faith with us."
Lynn's remarks came as House Republicans unveiled their legislative agenda for cybersecurity, which emphasized the need to offset any IT security initiative with cuts elsewhere in the federal budget (see House GOP Unveils Cybersecurity Agenda).
There is a price to pay for cybersecurity; we just don't know how much it will be and how we'll pay for it. But, it's an investment well worth making when done smartly.