Senate to Probe iPhone, Droid Tracking
Hidden Files on Smartphones, iPads Record Users' Locations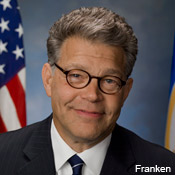 Congress will investigate whether Americans' privacy is being jeopardized by hidden files that record locations users visited on their mobile devices such as iPhones, iPads and Androids (see Hidden Files on iPhone Pose Risk).
Sen. Al Franken, D-Minn., chairs the newly formed Senate Judiciary Subcommittee on Privacy, Technology and the Law (see Senate Forms Privacy Subcommittee), which will hold a May 10 hearing entitled Protecting Mobile Privacy: Your Smartphones, Tablets, Cell Phones and Your Privacy.
Franken dashed off a letter to Steve Jobs, CEO of Apple Computer, maker of the iPhone and iPad, shortly after news reports surfaced last week that Apple's iOS 4 operating system secretly compiles users' location data in a file stored on iPhones, 3G iPads and computers individuals use to synchronize their devices.
The senator wrote:
"The existence of this information - stored in an unencrypted format - raises serious privacy concerns. The researchers who uncovered this file speculated that it generated location based on cell phone triangulation technology. If that is indeed the case, the location available in this file is likely accurate to 50 meters or less. Anyone who gains access to this single file could likely determine the location of a user's home, the businesses he frequents, the doctors he visits, the schools his children attend and the trips he has taken-over the past months or even a year."
Franken voiced concern various third parties could gain access to the hidden files because the operating system allows data to be stored in multiple locations in an unencrypted format. Anyone gaining access to a computer used to sync one of these devices could easily download and map out users' precise movements for months at a time, the senator said. In addition, he said, malicious individuals could create viruses to access the data, adding:
"There are numerous ways in which the information could be abused by criminals and bad actors. Furthermore, there is no indication that this file is any different for underage iPhones and iPad users, meaning that the millions of children and teenagers who use iPhone and iPad devices also risk having their location collected and compromised."
Franken estimates that 13 percent of 108 million iPhones and 19 million iPads are used by children under the age of 18, though some of the devices may not have been upgraded to iOS 4. vAmong the questions Franken wants Apple to answer:
Why were Apple consumers not informed of the collection and retention of their location data in this manner?
How frequently is a user's location recorded?
Why is this information not encrypted?
To whom, if anyone, including Apple, has this data been disclosed?
What is the purpose of collecting this location data?
I sent an e-mail message to Apple seeing if it provided answers to Franken and what those answers said. I'll post Apple's response here if and when I receive it.
The announcement of the May 10 hearing did not include names of those invited to testify before the subcommittee. One could assume the name of an Apple executive - as well as a high-ranking official from Google, whose operating system drives Android devices - will be on the witness list.