Events , Governance & Risk Management , Professional Certifications & Continuous Training
Previewing DSCI's Annual Security Summit 2015
Quick Take on the Must-See Sessions at DSCI AISS15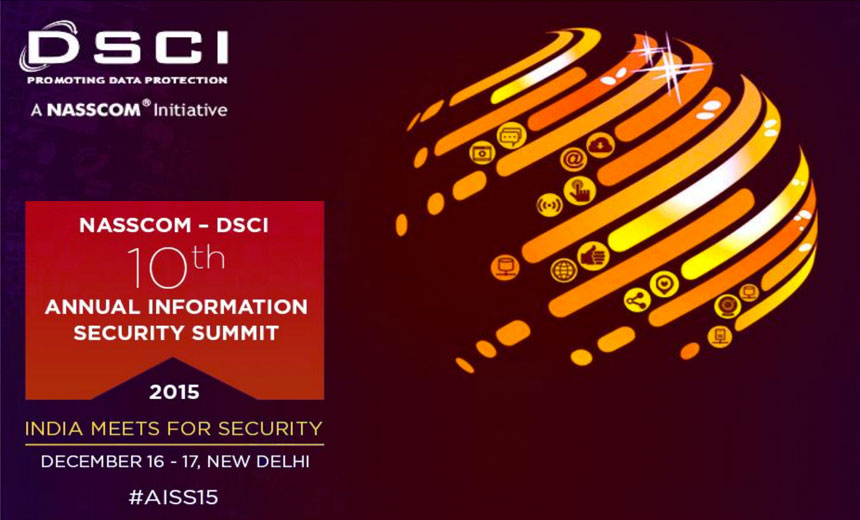 I am excited to be attending NASSCOM-DSCI's 10th Annual Information Security Summit, set to take place between December 16 and 17 in New Delhi at the JW Marriot, Aerocity. Having been a regular attendee for the past four years, I look forward to great interaction with the community, as well as the chance to take the pulse of what is going on in the Indian security space as we go into 2016.
See Also: You've Got BEC!
AISS15 strikes me as unique in that the event encompasses multiple industry verticals in a more comprehensive manner than other events that I have attended in this region. Some of these sessions include security representation from industry segments such as start-ups, law enforcement, civil society, legislators and others. I believe this owes in part to the robust grass-roots membership that DSCI enjoys from the security community.
Just looking at the speaker line up - it packs more than 130 speakers from various walks in security. Definitely makes one have to start working out a triage around which sessions to hit or miss - always a good sign for any event.
The event agenda definitely looks like this is going to shape up as one of the most prominent conferences in the region, going forward. Just looking at the speaker line up - it packs more than 130 speakers from various walks in security. Definitely makes one have to start working out a triage around which sessions to hit or miss - always a good sign for any event.
Must-See at AISS15
I expect that this year will see some robust participation from NASSCOM in supporting DSCI in addition to a renewed push around some unique items such as the 'DSCI Innovation Box', along the lines of RSA's innovation sandbox contest; and of course the DSCI excellence awards in security - widely acknowledged as the most comprehensive security award in the Indian context, by far.
I am interested to see the direction that AISS will take this year under the leadership of new CEO Nandkumar Saravade (Interview). (Also see: Nandkumar Saravade is New CEO of DSCI)
Like I said, the speaker line-up looks strong. It appears DSCI is applying its expertise and industry knowledge here. The hot topics this year seem to be incident response & advanced threats, cyber-crime, policy and privacy & risk. Check out the full agenda here.
I will be reporting from the ground at the summit, and here are some of the sessions that I am looking forward to:
'Critical Success Factor of Successful Transition to Digital Age - Security and Privacy Imperatives making Enterprises and Nations Digital', chaired by Rajendra Pawar, chairman NIIT, who is also chairman of NASSCOM-DSCI's cybersecurity taskforce. (See: New Cybersecurity Task Force Launched)
'Systematization of Incident Response & Breach Readiness - Framework, capabilities, processes & solutions', in track I, moderated by Rishi Mehta of Target; and the session titled Exploring Contours of Privacy - Individual Rights, State Guarantees, Trade Matters', moderated by the former CEO of DSCI, Kamlesh Bajaj. (See: DSCI's Bajaj Steps Down)
'Connected Things, Infrastructure & Utilities: Smart Cities - Making Security & Privacy Inherent Character of the Evolution', moderated by Dr. Rishi Bhatnagar of Tech Mahindra, which is a timely session that will be well received I feel.
Day one ends with the DSCI awards for 2015, which DSCI has been doing in partnership with PricewaterhouseCoopers for several years now. Something I look forward to as it is a great chance to connect with up-and-coming leaders Indian security - some of the selections turn out to hidden gems year-on-year - Although DSCI have been known to make repetitions. Who will the winners be this year?
Day two sessions of note include:
'Dialogue with Cert-In', in track 3 at 0915 hrs, chaired by the DG CERT-In, BJ Srinath (Interview) is a must-attend for me. This is followed by the SCADA session being moderated by Subramanya Boda of GMR, titled 'Taking Security Management Concepts to the SCADA Environment', which will definitely be something I will be taking back to my audience. This session takes place 1030-1130 in track 2.
Security Use cases: What Works and What Not?, chaired by DSCI's Vinayak Godse (Interview), features some great panelists.
'Public Policy Dilemmas of Cyber Security and Privacy - Legislative Body, Institution and Members' perspectives on Public Policy Making', with four members of parliament and Arvind Gupta, the head of IT cell for ruling party BJP, participating - you don't hear that everyday!
The last session with celebrity mythologist and author Devdutt Pattanaik will be interesting, as it promises to share insight on "...Managing complex affairs of security through exploration of mythology, philosophy and history."
All in all, looks like a great two days ahead. I am going to be on the ground at the summit, so please feel free to reach out and connect with me with your ideas. Would love to hear your thoughts on India and security and, we might even feature your insight in our forthcoming content
Additional Summit Insight:
Hear from more industry influencers, earn CPE credits, and network with leaders of technology at our global events. Learn more at our Fraud & Breach Prevention Events site.