Events , RSA Conference , RSA Conference Featured
Must-See Sessions at RSA Asia Pac
Mobility, Infrastructure, Governance Among Hot Topics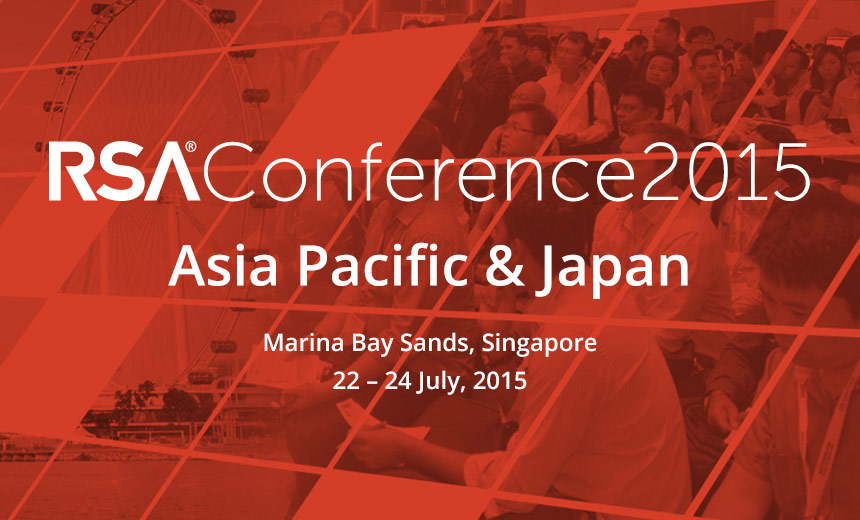 The event to look forward to this month is the RSA Conference Asia Pacific & Japan, which kicks off July 22 in Singapore at the Marina Bay Sands hotel. The event promises to be jam-packed with activities and opportunities to bring attendees up to speed with the latest trends in information security in the region, and globally.
See Also: Get the Risk Out! Managing Third-Party Cyber Risk Efficiently
The RSA Conference in San Francisco earlier this year attracted more than 30,000 attendees. While it would be safe to say that the APJ version is not going to be as massive, it is still easily the biggest and most comprehensive conference on information security in the region.
"The speaker line up seems exhaustive in classic RSA tradition, and the challenge for any attendee will be getting the most out of each day."
And with that mantle comes expectations. However, the speaker line up seems exhaustive in classic RSA tradition, and the challenge for any attendee will be getting the most out of each day, with multiple tracks and power-packed sessions vying for your time.
With this in mind, here are my top session recommendations to help you plan and prioritize your conference experience around some of the most compelling sessions on the agenda. This is not a complete list by any means. For a comprehensive overview, I suggest a quick look at this year's full RSA APJ agenda.
Hot Topics
At this year's event, sessions within tracks on security infrastructure, mobility, governance and cybercrime/law enforcement are going to be of particular interest to me and our Indian/Asian audience.
While staple topics such as cloud and governance also hold a few gems, the "threats" and "threat actors" tracks promise to be of particular interest, given the escalating advanced threat activity in the Asian region. Sadly, it's going to be impossible to take it all in, so here are a few tips about some of the planned sessions.
Day One, Wednesday, 22 July
Day one is a lighter, keynote-only day, giving you the opportunity to visit the Expo. The four sessions at center-stage on this day are:
The Game Has Changed: Amit Yoran, president of RSA, will kick off the conference with his keynote speech on the need for new paradigms in security, touching on the organized adversary, dissolving perimeter and the need to escape the vicious cycle of prevention and remediation. I expect this session will set the tone for the conference. [1430-1505 hrs, Sands Grand Ballroom A-D]

Targeted Attacks, APT's & Cyberwar - A MKT Buzz or a Real Business Threat?: In the second keynote of the conference, Raimund Genes, CTO for Trend Micro, will take a closer look how much of a real threat buzzwords such as cyberwar, APT and others really are. [1500-1525 hrs, Sands Grand Ballroom A-D]

Getting Ahead of Cybercrime: Ken Allan, global cybersecurity leader with big four consultancy E&Y, will discuss the evolving cybercrime landscape. [1525-1545 hrs, Sands Grand Ballroom A-D]

Cloud Without Borders: Paving the Way for Global Security and Privacy: Philippe Courtot, chairman and CEO, Qualys, will share ideas to leverage the cloud as a new foundation for cybersecurity and privacy. [1545-1605 hrs, Sands Grand Ballroom A-D]
Day Two, Thursday, 23 July
This is a big day, with 33 sessions across six tracks and three keynotes as well. This will put your time management skills to the test, with multiple sessions from which to choose at any given time because of the parallel tracks. Here are the top sessions:
Asia Pacific's Cloud Readiness Index 2015: This session in the cloud and data security track will feature May-Ann Lim, ED at the Asia Cloud Computing Association. It is a showcase of ACCA's cloud readiness index, or CRI. I am hoping to get a good overview of where APAC stands with regards to cloud. [0900-0945 hrs, Orchid room 4305]

Nation State & Hacktivist Attacks: Targeted Hits on Asian Organizations: After the APT30 report released by FireEye earlier this month (see: Inside An Elite APT Attack Group), this one is a must-see. FireEye CTO and Senior Vice President Grady Summers will share insights on why Asian organizations are facing the brunt of attacks by advanced threat actors. [1000-1045 hrs, Peony room 4411]

Effective Partnerships: Security and Privacy in Smart Cities: This is another must-see, given the Digital India campaign and smart city drives in other regions in Asia. Speakers are Irving Lachow, principal cyber researcher, MITRE; and Robert Butler, former principal adviser to the U.S. Secretary of Defense. [1115-1200 hrs, Peony room 4403]

Securing the Next-Generation Data Center: Munawar Hossain, director of product management for data center security and content security at Cisco Systems, will speak on taking security beyond the data center into the public cloud. [1400-1420 hrs, Sands Grand Ballroom A-D]

Panel - Hot Topics in Privacy: A Conversation with Privacy Leaders: This power panel will address the evolving privacy landscape in Asia - the hottest topics and emerging trends. The moderator is Leonard Ong, KnowledgeNet chair, IAPP. [1515-1600 hrs, Orchid room 4305]

How APIs Turned Cloud Security on its Head: Netskope Vice President Rajneesh Chopra will list five reasons APIs have turned cloud security on its head. [1630-1715 hrs, Peony room 4403]
Day Three, Friday, 24 July
There are some 26 sessions on this, the final day of the conference, plus two keynotes. Recommended sessions include:
Panel - Security Considerations for Mobile Payment Devices: Trends, Risks and Countermeasures: There is no question about how big mobility and mobile payments are expected to be in Asia. Speakers are Suhas Desai, associate director, cyberSecurity, PwC, India; and Wouter Veugelen, senior manager, cybersecurity, PwC, Australia. [0900-0945 hrs, Peony room 4405]

Malware Actors and Espionage: A Shift in the Criminal Value Chain: This session by Eward Driehuis, product director, Fox-IT, will look at the different kinds of malware actors and the financial malware ecosystem in detail. [1000-1045 hrs, Peony room 4411]

Achieving Cyber Identity Resolution via Electronic Warfare Techniques: This lecture by Dr. Nitzan Barkay, engineering deputy director - research and technology, Israel Aerospace Industries, will address the types, attributes and artifacts of virtual entities in cyberspace. In the cyber domain, his group researches such areas as identity resolution, geo-location and situation awareness. [1115-1200 hrs, Orchid room 4303]

2015 Industrial Control Systems Vulnerability Trends: With cybersecurity in the manufacturing and oil and gas sector picking up steam, vulnerabilities in SCADA/ICS and other operational systems are major concerns for practitioners, especially in maturing markets like India. Amol Sarwate, director of vulnerability labs at Qualys, will share insights from a new study. This session is not to be missed. [1315-1400 hrs, Peony room 4403]

Security 2.0: Assuring Your Security Investments Work for You: A most relevant keynote to bring the RSA APJ conference to a close, Matt Alderman, vice president, strategy, global, Tenable Network Security, will speak about a more comprehensive approach needed to ensure the effectiveness of security investments. [1415 hrs - 1435, Sands Grand Ballroom A-D]
That is the list of our recommendations. What's on your list of must-see sessions and speakers? Please comment in the section below or tweet to us.
ISMG's Asia editorial team will be at the event to provide coverage via blogs, interviews and features. Feel free to reach out to us with ideas or if you would like to catch up on the conference floor. See you there!
Additional Summit Insight:
Hear from more industry influencers, earn CPE credits, and network with leaders of technology at our global events. Learn more at our Fraud & Breach Prevention Events site.