Artificial Intelligence & Machine Learning , ATM / POS Fraud , Blockchain & Cryptocurrency
ISMG Security Summit in Mumbai: A Preview
Event Will Feature Fraud Prevention, Use of Blockchain and Much More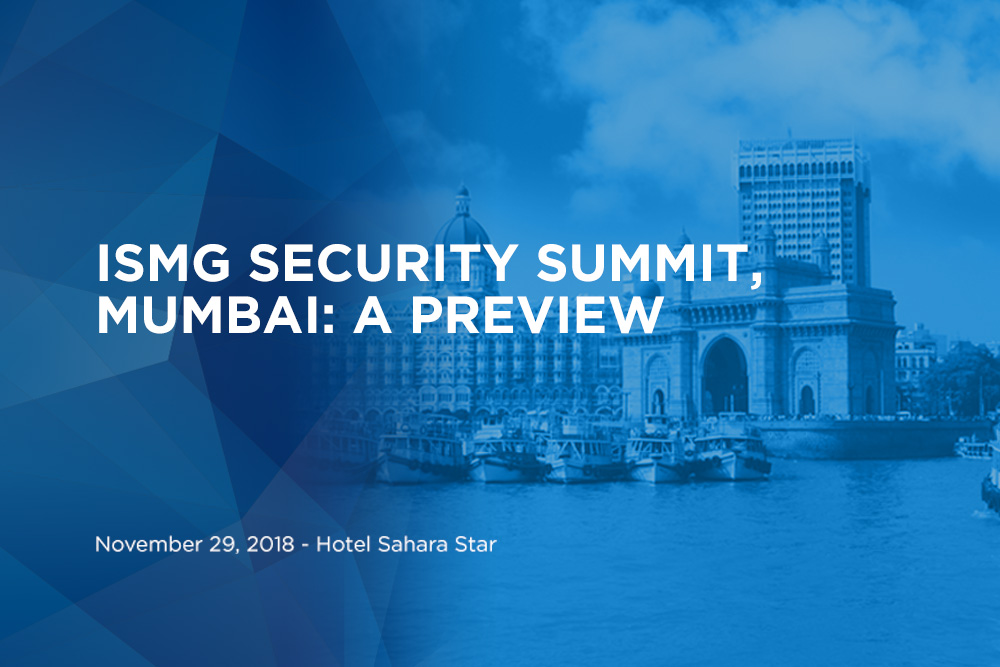 Insider threats. Digital payments and ATM fraud. International attacks on banking systems resulting in fraudsters siphoning money. Cyberattacks and website hacks on government websites. Heated debate on the India's proposed mandatory breach notification law. All of these topics have been grabbing headlines in India and throughout Asia.
See Also: Fog of War | How the Ukraine Conflict Transformed the Cyber Threat Landscape
This has been a busy security and anti-fraud leaders.
"The summit will provide you the opportunity to learn from industry influencers, earn CPE credits and meet with leading technology providers."
As a result, security practitioners are working to build effective cyber defenses and leverage new technologies in light of the changing threat landscape.
But even as we see heightened levels of maturity in the industry, the security fraternity faces fresh, unforeseen cybersecurity challenges.
To help security practitioners address those challenges, Information Security Media Group's Security Summit, to be held on Thursday, Nov. 29, at Sahara Star Hotel in Mumbai, will offer expert insights on best practices.
The dual-track event, which will feature presentations by CISOs and other subject matter experts, is designed to address the needs of CISOs, fraud and risk teams, security IT professionals and others by providing hands-on tools and real-world solutions that participants can take back with them and apply to their work environment.
Best Security Practices
At the summit, thought leaders will discuss the best ways to secure critical data assets against evolving threats with the use of contemporary technologies.
Key themes will include:
Setting the boardroom agenda for security;
Artificial intelligence in cybersecurity;
Using human intelligence to proactively identify and mitigate threats;
Applying proactive cyber threat intelligence in security programs;
Using blockchain to enhance authentication;
Understanding new threat detection algorithms with network visibility techniques;
Measuring cybersecurity exposure;
Automation: security architect for the future;
Complying with breach notification.
The summit will feature security leaders and subject matter experts who will share insights and challenge practitioners to take a systematic and pragmatic approach to secure their environments.
Featured Speakers
The summit will commence with a keynote address by Bhaskar Pramanik, board member at the State Bank of India and former chairman of Microsoft India. He will speak about how cybersecurity fits in the board's accountability to all company stakeholders, what the board should understand about cybersecurity and how it can eliminate obstacles that prevent organizations from developing a culture of proactive security.
The spotlight session on "Securing the Payments Business in a Cashless Economy" will feature Abhishant Pant, CEO and founder of Cashless Journey. He will speak on the innovations in the payments industry driven by the cashless regime the security implications.
The session on "Blockchain: Enhancing Authentication for Enterprise Security and Fraud Prevention" will feature Rohas Nagpal, chief blockchain architect from Primechain Technologies. He'll walk attendees through how blockchain technology can help establish new authentication standards.
Other sessions include:
"'Reactive to Proactive': A Look at Cyber Threat Intelligence in Security Programs," featuring Rajesh Thapar of Yes Bank;
"Reducing Data Breach Risk with Advanced IAM: A Practitioner's Perspective," presented by Charanjit Singh Sodhi or Nomura Wholesale;
"Acquiring and Operationalizing Threat Intelligence for OT Environments," by Kaustubh Medhe of Reliance Industries.
Panel discussions on banking breaches, fraud and its implications, and preparing for India's data breach notification law will offer timely insights.
The event will provide you the opportunity to learn from industry influencers, earn CPE credits and meet with leading technology providers.
For more information, visit the Mumbai event page. And be sure to look for video interviews conducted at the summit to be posted following the event.