3rd Party Risk Management , Audit , Critical Infrastructure Security
India Cybersecurity Virtual Summit: A Preview
Security Thought Leaders to Share Approaches to Adopting a 'Zero Trust' Framework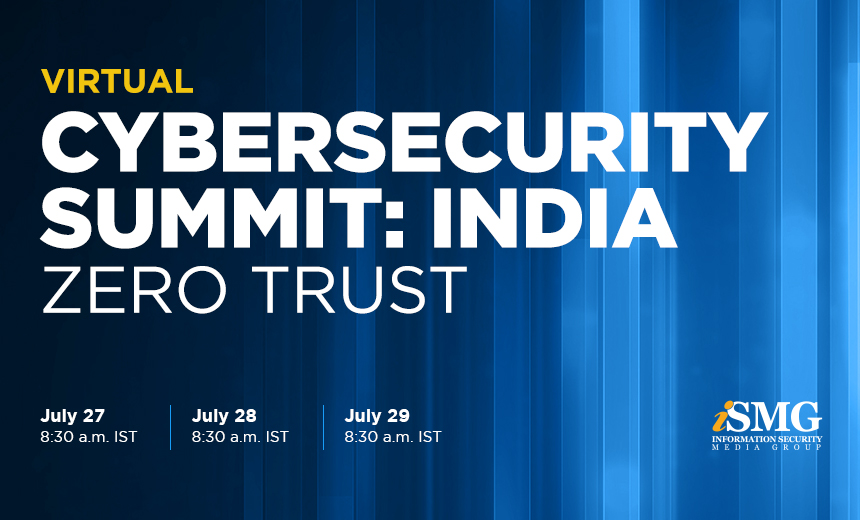 As most organizations moved to a remote workforce, new threats emerged, including cybersecurity scams, ransomware attacks, leaking of customer credentials, cyber extortion, and the evolution of fake websites for extraction of funds.
See Also: Panel | Realities of Choosing a Response Provider
The "zero trust" model can play a critical role in mitigating emerging threats. That's why Information Security Media Group will host on July 27 a virtual cybersecurity summit for India on applying the model.
The summit will review elements of the model, including the use of multifactor authentication, microsegmentation, role-based access management and continuous monitoring.
The summit will review elements of the model, including the use of multifactor authentication, micro-segmentation, role-based access management and continuous monitoring. The event will offer insights on new ways to protect endpoints that are now vulnerable to cyberthreats.
This virtual event will bring together thought leaders who will offer lessons on leveraging the zero trust model in various sectors to support digital transformation.
Hot topics at the summit include:
Applying zero trust in an OT environment;
Implementing a defense-in-depth approach;
Securing the remote workforce with a systematic approach;
Using zero trust as a pillar of digital innovation;
Taking a holistic approach to building a zero trust architecture.
Critical Concerns
The summit will feature security leaders and subject matter experts sharing insights on new approaches to making the zero trust model work in the new environment.
Some critical concerns the summit will delve into are:
Taking the necessary steps when perimeter defenses are compromised;
Building system designs that support cyber resiliency;
Sizing up the critical elements of digitization that impact cybersecurity;
Taking on the challenges of balancing security and privacy.
Keynote Address
The summit will commence with a keynote address by Ron Ross of the National Institute of Standards and Technology on "When Perimeter Defenses Are Compromised: Applying Zero Trust Concepts to Achieve Cyber Defense-In-Depth."
A second keynote session by Lt. Gen (Retired) Rajesh Pant, India's national cybersecurity coordinator, will address "COVID-19: Impact on Cybersecurity and Challenges at the National Level."
A presentation by Dr. Yask Sharma, CISO of Indian Oil Corp., will offer insights on applying zero trust in a OT environment.
In a session titled "Zero Trust: What Does It Mean to a Security Practitioner?", Vishal Salvi, senior vice president and CISO at Infosys, will provide a practical approach to adopting the model.
Other sessions will address such topics as a holistic vision for zero trust, the importance of understanding the "unknown risks" in the new environment, and building a zero trust architecture for the remote workforce.
For more information, please visit the registration page. I look forward to receiving your feedback on the event and insights on topics and speakers you'd like to see at future events.