Howard Schmidt Seeks Private-Sector Support
White House Cybersecurity Coordinator Touts Trusted, Online Initiative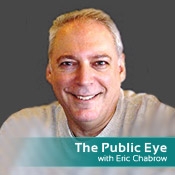 White House Cybersecurity Coordinator Howard Schmidt doesn't give many one-on-one interviews, but he just granted one to promote the National Strategies for Trusted Identities in Cyberspace, a public-private initiative aimed at creating a trusted, online environment where transactions can occur securely.
In the interview with Herb Weisbaum, a consumer journalist known as ConsumerMan, Schmidt emphasizes the public-private partnerships in creating a new way to securely identify individuals, businesses and other entities, which he characterizes as "very, very positive." Adds Schmidt:
"While we've not released the final strategy yet, we've been engaging with all of these key groups (business, civil libertarians, privacy advocates) to make sure they understand the principles we're operating by. We've had tremendous support for that. We're also working with key lawmakers to make sure Congress has full visibility of the way we're doing this. And the bottom line is: The more we get positive feedback, the easier it is to have the private sector lead the way on this.
Working with the private sector to come up with solutions to safeguard IT and the Internet is a leitmotif in the administration's approach to cybersecurity. That was most evident at last year's RSA security conference when administration official after administration - Homeland Security Secretary Janet Napolitano, FBI Director Robert Mueller and Schmidt - liberally sprinkled their speeches with references to the public-private partnerships (see The Government's Infosec "Conspirators").
Why does the administration need private-sector support for its cybersecurity objectives? First, the government just doesn't have the resources to do it alone, and though the government has many bright minds tackling IT security challenges, there are many more in business, academia and other nongovernmental entities. Second, we're a nation with a strong belief that the marketplace provides many of the answers to vexing questions such as how best to secure IT. Third, like it or not, the political environment is such that having the government tell business what to do has little support in Congress these days. Indeed, the president in his State of the Union address called for a review of all regulations.
It's good to see Schmidt granting interviews; he's an articulate spokesman, as I observed first hand when I had a face-to-face, private meeting with him at last year's RSA conference (see Cybersecurity Coordinator: Defense of Critical IT Improved). Let's hope we hear more from Schmidt.