Breach Notification , Incident & Breach Response , Security Operations
Hot Sessions: Data Breach Summit Asia
Security Thought Leaders to Share Best Defense Strategies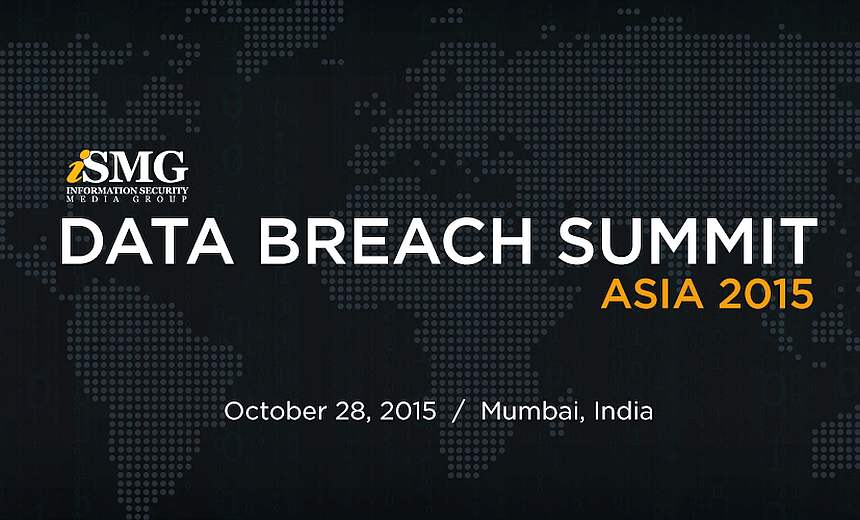 As large-scale data breaches and sophistication of cyber-attacks challenge sectors across geographies, it's bound to have a cascading effect on the Asia region, too. It's time, then, that Indian security practitioners take these incidents seriously and follow the necessary steps toward fighting them.
See Also: Six Cloud Strategy Pitfalls and How to Avoid Them
Against such a backdrop, ISMG takes the lead in organizing the Data Breach Summit Asia 2015, being held in Mumbai on Wednesday, Oct. 28, at Holiday Inn Mumbai International Airport.
ISMG's summit has the distinction of involving experts from across domains, with vital lessons on tackling cyber breaches and preparing for the worst
The objectives of this one-day event are straight and simple:
To educate the information security fraternity about potential breaches that could invade their enterprises;
Convey lessons on preparedness to tackle future breaches;
Share best-practices for how to prevent, detect and work on mitigation techniques.
Hot Sessions You Cannot Miss
ISMG has brought in an impressive line-up of industry leaders who will discuss potential cyber-threats and breaches and lessons to learn from past incidents. Some key concerns the summit touches on will be:
How to deal with insider threats;
What will be the skills required by law enforcement agencies to prevent and investigate cyber breaches?
How much is India prone to data breaches?
Is actionable threat intelligence just a fancy name?
Will data breach disclosure become a reality?
What kind of new rules India will need in tackling cyber war?
What can India learn from others' breach lessons?
Also attractive for participants are interesting keynotes, exclusive sessions by eminent security experts, panel discussions, spotlight sessions, and other intriguing networking opportunities.
The excitement starts with an interesting keynote by Brijesh Singh, IPS, Inspector General, Central Investigation Department of Maharashtra, on the role of law enforcement agencies in preventing and investigating cybercrime and breaches and how to bridge skill gaps.
The country's security community has been waiting to understand the government's response to growing cyber challenges. So, it's critical to attend the plenary session by Dr Gulshan Rai, who heads the National Cyber Security Co-ordination Centre for the government of India, on cybersecurity challenges for Indi and lessons for security practitioners.
The spotlight session features Captain Raghu Raman, president - risk, security and new ventures at Reliance Industries. He will share deep insights into cyber war, India and the new rules of the game.
Other exclusive hot sessions delegates include:
Actionable Threat Intelligence: From Theory to Practice, by Dr. Siva Subramanian, global head of security at Bharti Airtel;
Inside Out: Strategies for Preventing and Mitigating Insider Threats, by Rudra Murthy, CISO at Digital India, Ministry of Home Affairs.
Panel Discussions by security stalwarts address such topics as:
Data Breach Disclosure: The reality in India, the risks and the danger of unreported breaches;
Leveraging Cyber Insurance to Mitigate Data Breach Risk: Is the market maturing in India?
Lessons for India from around the world: How can we get it right?
One unique offering of the event is "InfoSec Conversations," a roundtable discussion allowing delegates to have insightful discussions with their peers and technology providers.
ISMG's summit has the distinction of involving experts from defense, banking, finance, insurance, telecom, government, consulting and law enforcement groups with vital lessons on tackling cyber breaches and preparing for the worst.
For more, please visit ISMG's event page.
That's my take on the interesting sessions at the summit. What's on your mind and what would you like to see?