The Decade in Vulnerabilities and Why They Persist
Despite 'Patch or Perish' Problem, Bugs Rarely Burn Out, Instead Slowly Fading Away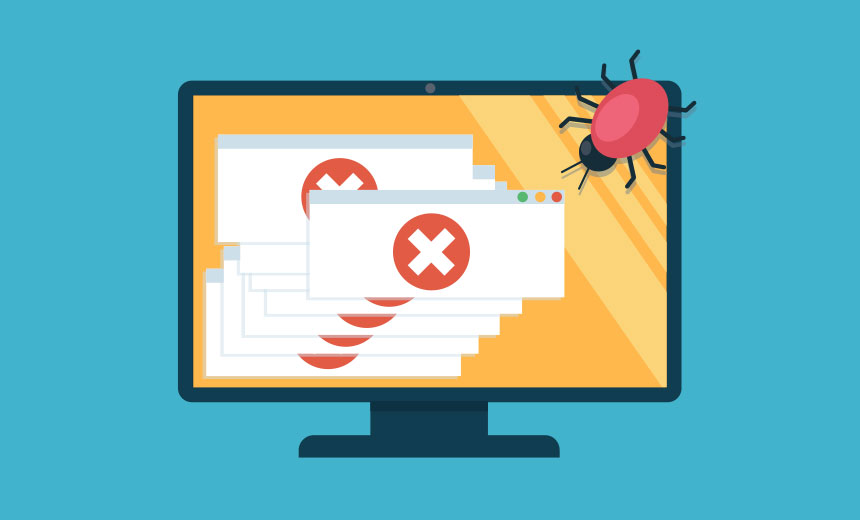 Here's a cybersecurity truism: Big, bad bugs never burn out. They slowly fade away - despite the risk that attackers will exploit them to steal data, seize control of systems or deploy ransomware.
See Also: Forrester Wave™ IaaS Platform Native Security Report
Ideally, all organizations would rapidly expunge known vulnerabilities from their networks, starting with the most severe bugs that pose the greatest risk.
In reality, serious vulnerabilities never seem to die. In April, for example, the Five Eyes intelligence alliance - comprising Australia, Canada, New Zealand, the U.K. and U.S. - issued a joint alert urging organizations to patch 15 of the most exploited vulnerabilities of 2021, not least by nation-state attackers.
Of those 15 highlighted flaws, two came to light in 2020, one in 2019 and another in 2018.
Another take on the challenge comes via a list of "the most egregious network security flaws" of the past decade - from 2011 to 2021 - compiled by the SpiderLabs research and intelligence team at Chicago-based cybersecurity firm Trustwave, which is part of Singaporean telecommunications company Singtel Group Enterprise.
Of the 10 vulnerabilities the security researchers highlight, attackers continue to actively exploit these five:
Overall Severity of Flaws Increasing
Patching is a Sisyphean task. New flaws are always coming to light. In the case of previously unknown zero-day flaws, the vulnerabilities may already be actively exploited with no patch yet available.
The patching problem is compounded by bug severity, says Trustwave's SpiderLabs team, based on its own analysis of vulnerabilities, as well as its reading of information provided by the U.S. National Vulnerability Database, the Exploit-DB public archive of exploits and vulnerability information engine VulnIQ.
"Security incidents and individual vulnerabilities have been increasing in number and becoming more sophisticated," SpiderLabs says.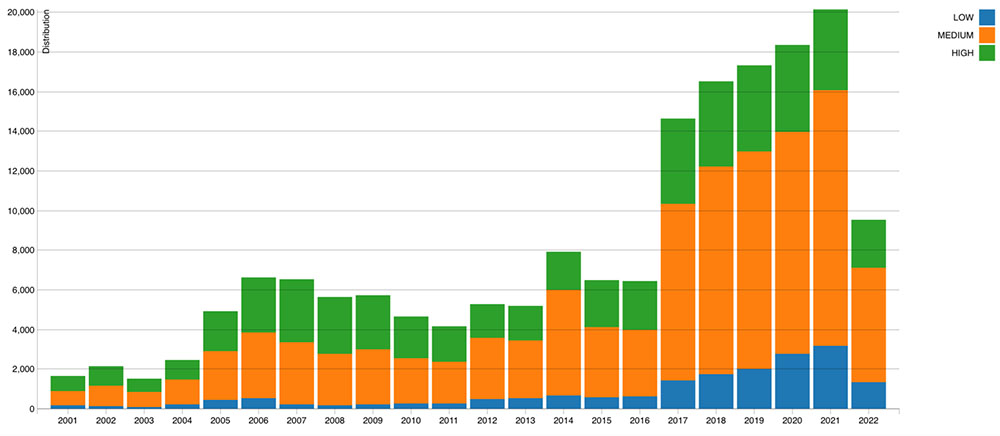 Vulnerability severity distribution over time (Source: NVD)
Don't Forget Log4j
Not highlighted in Trustwave's top 10 was Log4jShell, a vulnerability in the open-source logging utility Log4j maintained by Apache. Multiple flaws were found in the software and disclosed beginning in December 2021. One challenge is that Log4j is so widely used and built into other pieces of software that patching all instances seems unlikely.
One piece of good news is that relatively few Log4Shell-exploiting attacks - and none targeting critical infrastructure - have been seen so far, says the Cyber Safety Review Board, established last year by President Joe Biden to review serious cybersecurity incidents.
"The Log4j event is not over," the Cyber Safety Review Board says in a recent report on Log4j. "The board assesses that Log4j is an 'endemic vulnerability' and that vulnerable instances of Log4j will remain in systems for many years to come, perhaps a decade or longer. Significant risk remains."
Unfortunately, the same remains true of so many vulnerabilities that have been discovered or are yet to be found.