Cyber Iron Dome: Reality or Dream?
Global Cooperation Needed to Develop Israeli Cyberdefense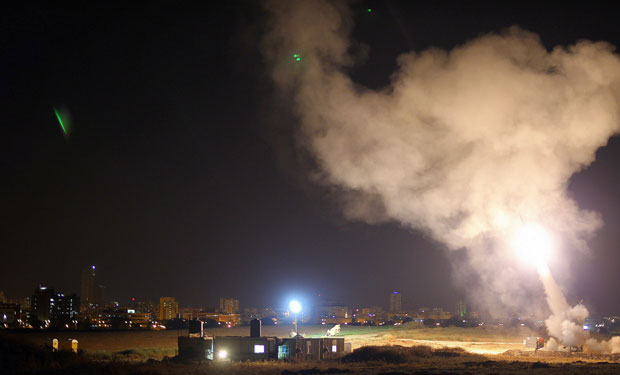 Israeli Prime Minister Benjamin Netanyahu may have been a bit premature to claim Israel has deployed a cyber "iron dome" to protect its critical IT and defense systems.
See Also: Fog of War | How the Ukraine Conflict Transformed the Cyber Threat Landscape
Netanyahu, at a cybersecurity conference in Tel Aviv this week, declared that during the recent war with Hamas, in which Israel deployed a missile defense system known as the iron dome to intercept rockets fired from Gaza, Israel beat back cyber-attacks from its enemies using a similar defense (see Israeli CyberSec Sector Copes with War).
"There's an iron dome of cybersecurity that parallels the iron dome against the rockets and this allowed us the operating space to continue fighting and of course to continue with the daily life of Israel," Netanyahu said in a speech delivered at the conference on Sept. 14.
Cyber-attacks from Israeli enemies increased dramatically during the Hamas conflict, but they proved to be more of a nuisance than damaging. Hamas loyalists, for instance, sent text messages to Israelis' mobile phones, purportedly from Israeli security services, warning: "Rocket from Gaza hit petrochemical plant in Haifa, huge fire, possible chemical leak, advised to evacuate Haifa." There was no attack or huge fire, but perhaps a few frayed nerves.
Finest Minds
"The fact that the cyber-attacks did not affect Israel's daily routine and economy and they certainly did not affect the IDF [Israel Defense Forces] efforts - those facts derive from the fact that we have the finest minds, literally, the finest minds in Israel's security community and our cyber industry working to give us those defenses," Netanyahu said.
But Netanyahu may be ahead of himself. Cyber-attacks during the Gaza war had a negligible impact on Israel's military, government and society, but it wasn't necessarily an iron-dome type defense that furnished the protection.
Israeli Prime Minister Benjamin Netanyahu on Iranian cyber-attacks.
Costly Endeavor
On the same day that Netanyahu delivered his speech, the Israeli business newspaper Calcalist reported that Danny Gold, who's credited with creating the iron dome missile shield as the then-head of Israeli military research and development, is behind a new initiative to establish a cyber iron dome that could be deployed within three years at a cost of hundreds of millions of shekels (100 million shekels equals nearly $27.6 million). Gold heads the National Cyber Committee at the National Council for Research and Development, a body consisting of leading scientists, engineers and industrialists that advises the government on science policy and priorities.
The cyber iron dome would repel attacks on various component of Israel's computer networks, including systems operated by individuals, the government, military and the private sector, according to the news report. The system would operate in four main layers: identify threats, protect systems from the threats, mitigate threats that exists within the network and launch retaliatory attacks against cyber-assailants. Any counter-offensive attack under the system would be launched by the Israel Defense Forces cyber command.
Unlike the iron dome that identifies incoming missiles to destroy, a cyber version wouldn't initially launch an attack on its target but would provide the IDF with "pinpoint" information on where the attacks originated, Gold said. "The objective of the cyberdefense network is to locate the threat beforehand and to prevent it from materializing," he said. "Eventually, it will also be able to attack hackers who have tried to breach the network."
Collaborative Effort
The cyberdefense program would encourage Internet and technology companies, in Israel and abroad, to collaborate with the Israeli government and military on the initiative. Among the big companies Gold cited as possible partners are Google, IBM and Microsoft as well as two big Israeli defense companies that have cybersecurity units, Elbit Systems and Israel Aerospace Industries.
Getting large companies involved in the initiative would help the government shepherd the creation of a cyber iron dome. "There are some 200 start-up companies in the cyber field in Israel, but there is no body that integrates them," Gold said. "A large company can decide that it is working with 10 small start-ups, each of which is developing a specific component in a system, and thus be able to provide a larger and more integrated system." That's a similar approach taken when Israel began to develop the kinetic iron dome, which the Israel Defense Forces contends had a success rate of 90 percent in the war with Hamas.
What would be impressive about this project is the international nature of it, nations and businesses facing common threats banding together to develop technology and processes to safeguard critical systems.
That Israel is moving ahead on such a collaborative initiative shouldn't be surprising. Except for the United States, more cybersecurity enterprises are based in Israel than any other nation. Israel's Chief Scientist office estimates that Israel is home to some 250 cyber companies as well as 15 cyber R&D centers operated by multinational corporations such as IBM, Lockheed Martin, Microsoft and Qualcomm.
The U.S. government will likely participate in this project. At the Tel Aviv cybersecurity conference, according to the Times of Israel, former U.S. National Security Agency Director Keith Alexander emphasized the need for diverse elements of society facing cyberthreats to cooperate in finding solutions.
It's only through that type of cooperation that nations will be able to create systems like a cyber iron dome.