Application Security , Cloud Security , Next-Generation Technologies & Secure Development
Why CrowdStrike Is Eyeing Cyber Vendor Bionic at Up to $300M
Bionic Is in Line for a 9-Figure Deal Just 31 Months After Emerging From Stealth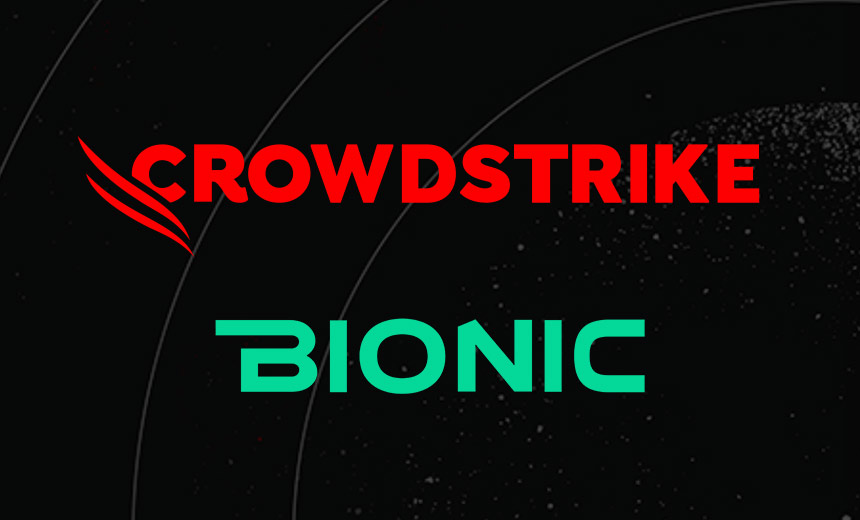 A startup founded by two Israel Defense Forces veterans and backed by the likes of Insight Partners and Cyberstarts could soon be acquired by CrowdStrike, according to news reports.
See Also: Fog of War | How the Ukraine Conflict Transformed the Cyber Threat Landscape
Endpoint security behemoth CrowdStrike is in advanced negotiations to purchase Silicon Valley-based application security posture management vendor Bionic in a deal valued at between $200 million and $300 million, Calcalist and TechCrunch reported Wednesday. But top rival Microsoft is also kicking the tires on a Bionic acquisition, which TechCrunch said could delay or even derail the CrowdStrike deal (see: Israeli Security Companies CrowdStrike Could Buy for $2B).
A CrowdStrike spokesperson told Information Security Media Group, "As a leading cloud security provider, we continue to be laser-focused on delivering the best cloud security platform in the world, however we can't comment on rumors or speculation." Bionic declined ISMG's request for comment, and Microsoft didn't immediately respond to an ISMG request for comment.
CrowdStrike's stock climbed $3.69 - or 2.44% - to $154.63 per share in trading Wednesday, which is the highest the company's stock has traded since July 19.
Reports of the Bionic deal emerge almost exactly a year after Israeli financial newspaper Globes reported that CrowdStrike plans to spend $2 billion to buy one or more Israeli cybersecurity companies. But that hasn't yet come to fruition. Austin-based CrowdStrike spent just $18.9 million in October to buy San Francisco-based external attack surface management startup Reposify (see: CrowdStrike to Buy Reposify to Secure Attack Surface, Assets).
What Makes Bionic Special?
Although Bionic is based in the U.S., co-founders Idan Ninyo and Eyal Mamo live in Israel - as do 66 of the company's 147 employees. CEO Ninyo was a lead software engineer in the Israel Defense Forces and an R&D software engineer at augmented reality vendor Magic Leap, and CTO Mamo was an IDF research team lead before becoming a vice president at deception technology vendor Cymmetria.
Bionic was co-founded in May 2019, raised $82 million in three rounds of outside funding, and grew its headcount by nearly 66% over the past year, according to IT-Harvest. Notable backers of Bionic include current Island CEO and former Symantec President Michael Fey, former Barclays Chief Information Officer Sameer Jain, and Passave and Anobit founder Ariel Maislos, IT-Harvest found.
"Bionic uniquely serves the needs of both cybersecurity and DevOps teams with a product functionality that provides immediate value with minor operational impact," Insight Partners Managing Director Steve Ward said in a statement after leading the company's $65 million Series B funding round in March 2022.
More than 55% of Bionic's employees are based in Israel. Nearly 40% are in the United States, and the remaining 6% are in countries including the United Kingdom, according to IT-Harvest. IT-Harvest estimates a valuation of between $147 million and $199 million for Bionic and annual revenue of $15 million - or nearly $100,000 per employee - just 31 months after the company emerged from stealth.
Bionic offers capabilities from simple cloud application visibility to impact analysis and application and API security. The company's key product is an application security posture management tool that addresses the slower evolution of security when compared to its engineering peers. Bionic said it aims to make threats that pose the greatest risk visible, contextualized and fixable within minutes.
Would CrowdStrike Make a Good Home for Bionic?
CrowdStrike today addresses application security through a cloud workload protection tool that allows customers to build, run and deploy secure applications and an IT hygiene offering that identifies rogue systems and applications in customer networks. The company's Falcon Discover module addresses use cases outside of security, such as application license management.
The company hasn't been shy about doing acquisitions to widen its technological footprint. Nearly a year before the Reposify acquisition, CrowdStrike purchased data protection startup SecureCircle for $60.8 million to extend its zero trust endpoint security device and identity capabilities to include data.
The SecureCircle deal came eight months after CrowdStrike had purchased log management startup Humio for $400 million to strengthen its ability to ingest and correlate data from any log, application or feed. Six months earlier, CrowdStrike bought access control and threat prevention firm Preempt Security for $96 million to help clients defend identity data without compromising productivity or user experience.
The first acquisition in CrowdStrike's 13-year history took place in October 2017, when the company bought automated malware analysis system Payload Security for $8 million. Bionic may be the next name on CrowdStrike's acquisition list.