3 New Security, Risk Sites Debut
ISMG Launches Info Risk, Data Breach, Career Domains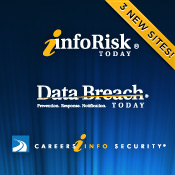 To further meet the growing needs of global information security and risk management professionals, Information Security Media Group (ISMG), publisher of BankInfoSecurity, GovInfoSecurity and HealthcareInfoSecurity, announces the immediate launch of three new international media sites:

InfoRiskToday - which examines information security, risk management, fraud and compliance concerns that affect senior leaders in all organizations and industry sectors.

DataBreachToday - providing news, insights and education on data breach prevention, response and notification.

CareersInfoSecurity - a one-stop shop for the latest news, insights, training and education on career strategies, skills and trends for information security and risk management professionals at all levels. And coming soon: the most comprehensive job board available for global opportunities.

Concurrent with the launch of the three new sites, ISMG also will debut soon a new, updated design for its existing sites: BankInfoSecurity; CUInfoSecurity; GovInfoSecurity and HealthcareInfoSecurity.
Meeting the Need
Each of these new sites launches at a critical juncture for information security and risk management professionals.

Information Risk Management - Reflecting on some of the major events of 2011 - the Sony breach, U.S. banking regulators' issuance of new online banking guidance, and the daily, devastating incidents caused by lost or stolen mobile devices - it's clear that leaders at all levels now are keenly focused on information risk management discipline. No leader is unaware of the financial and reputational risks of a data breach. Across all sectors, industry regulators and leaders now emphasize the criticality of risk assessments and enterprise risk management. To fuel this focus is the mission of InfoRiskToday.

Dr. Ron Ross, the primary author of information risk management guidance from the U.S. National Institute of Standards and Technology, says establishing a risk management framework helps organizations decide which security controls are the best ones to apply to "get the best bang for our buck. ... That really, to me, is what the risk management framework does best, help decision makers come to credible, risk-based decisions on how they should protect their organizations."

Breach Prevention, Response - Data breaches are regularly making headlines across all industry sectors. From the TRICARE military health program breach, which affected 4.9 million individuals, to the breach of certificate authority DigiNotar, which led the company to declare bankruptcy, major incidents are calling attention to the need for stepped up efforts to prevent, detect and respond to breaches. DataBreachToday provides practical strategic insights on these critical issues.

"Executives are seeing large breaches of data on front pages, and it is suddenly becoming a much stronger incentive for them to allocate resources to information security," says former U.S. healthcare regulator Adam Greene, now an attorney with the U.S. law firm David Wright Tremaine.

Career Growth - For information security and risk management professionals, 2012 presents a unique opportunity. There are more jobs than qualified professionals in the marketplace - Dice.com, the IT job site, says the number of open information security positions has grown nearly 80 percent in the past two years. Security analysts, architects and application security pros are in particular high demand. But because the threats are growing in number and sophistication, information security professionals also must evolve in their approach.

CareersInfoSecurity offers news, opinion and analysis on the evolution of information security and risk management careers. And soon it will feature an all-new job board, offering a comprehensive look at job opportunities as they arise across all sectors.
Enhancements, Presence
Some additional points to consider about these new sites and the redesign:
Enhanced Focus - With each of these sites, ISMG is expanding its focus beyond vertical industries to address for all senior leaders the topics that matter most today: breach preparedness, information risk management, fraud, compliance and incident response.
Global Presence - Because today's information security and risk management challenges know no boundaries, these three new sites are launched simultaneously with companion domains in the U.S., U.K., Europe, Asia and India. These new sites now make ISMG the largest global network of information security-focused media sites, reaching the most diverse audience of decision-makers in each of these key markets.
Streamlined Look - The fresh design is aimed not just at showcasing ISMG's original editorial content, but also to give audience members easier access to educational webinars, white papers and original research.
And as a registered subscriber to any of ISMG's sites, once an individual logs in to one site - the registrant has instant access to them all.
These new sites are managed by three veteran ISMG editors: Executive Editor Howard Anderson, Executive Editor Eric Chabrow and Contributing Editor Upasana Gupta.
[Note: If you review the new media sites and have feedback you'd like to share, please write to Editorial Director Tom Field at tfield@ismgcorp.com. Your input is encouraged.]